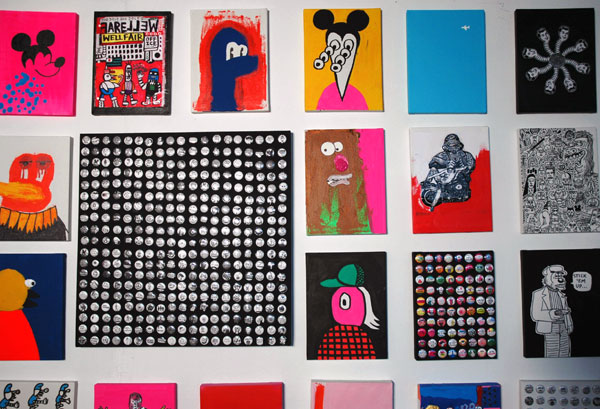 Quimby's heads should know the works of Raphael and Noah Lyon. Raphael is the mind behind Mudboy and compiled the CDR's we used to sell titled "Haunted Cobblestone" & "Free Matter for the Blind." Noah is the mind behind Retard Riot and is also the guy who makes those crazy one inch pins we sell a lot of…you know with sayings on them like "Teenage Mutant Ninja Testicle." The brothers will be in town to have an art show and crazy opening event! So check it out next week!  You have been warned.
Raphael Lyon (Mudboy) and Noah Lyon (Retard Riot) are having a show at Heaven!
Opening Friday,Feb. 22nd 7-11pm
1550 N. Milwaukee Ave. 2nd Fl.
Chicago
DOCTOR NINJA (the Ol' Dirty Mental Retard)
& MUDBOY (the Doctor of Experimental Organomics) proudly present:
NOAH LYON & RAPHAEL LYON in THE LYON FAMILY CIRCUS
Inspired by great works of art like Todd Browning's "Freaks", John Waters' "Cavalcade of Perversion", the brotherly love of punk rock workaholics the Ramones, and the collective sound mastery of the Wu-Tang Clan family; notorious east coast ringmasters Noah & Raphael Lyon said "Gooba-gabba, gooba-gabba, hey ho, let's go, Chicago!".