Monthly Archive for January, 2017
More info coming soon!
Sat, April 22nd!
Brain Frame Yearbook 2011-2014
*ZINES*
American Dream #3 $3.00
As You Were #1 by Bill Brown $3.00
Soda Killers #13 $5.00
*COMICS*
Mike Pence's Worst Nightmare by Ally Whitelaw & Becca Regan $4.00
Houses Giant Sized First Issue by Matthew Schmid $5.00
Verdict #1 by Kwame Teague $5.00
Lucky #1 a Gangster Comic by Christian Cipollini $5.00
Laskimooses #33 Maakausien Hamarassa $7.00
True Adventures of Jep Comix #6 Summer 16 by Jep $4.00
*MAYHEM*
The Beautiful Brain: The Drawings of Santiago Ramón y Cajal $40.00 – The art of brainscans!
Explorations in Awareness: Finding God by Meditating with Entheogens by John W. Aiken $17.95
*MUSIC & FILM BOOKS*
Headliners by Jamel Hewitt $20.00
The Official Making of Big Trouble in Little China by Tara Bennett $39.99
Lonely Boy: Tales From a Sex Pistol by Steve Jones $26.99
*FICTION*
Only the Animals: Stories by Ceridwen Dovey $18.00
Zeke Stage One by Ward J. Pyle $13.95
*POLITICS & REVOLUTION BOOKS*
Culture As Weapon: The Art of Influence In Everyday Life by Nato Thompson (Melville House) $24.99
*MAGAZINES*
Uppercase #32 A Magazine for the Creative and Curious
Wire #395 Jan 17 Peter Brotzmann $10.99
*LIT JOURNALS, CHAP BOOKS & POETRY*
The First Line vol 18 #4 Win 16 $4.00
The Last Line #3 Win 16 $3.00
Book of Days by Jason Triefenbach $3.00
Revise the Psalm Work: Celebrating the Writing of Gwendolyn Brooks by Qraysh Ali Lansana (Curbside Splendor) $24.95
*POLITICAL BOOKS*
Hegemony How-To: A Roadmap for Radicals by Jonathan Smucker (AK Press) $16.95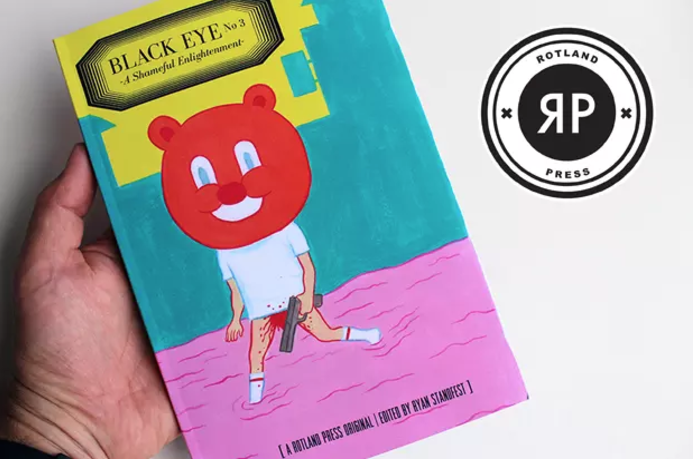 This event is occasioned by the publication of BLACK EYE No. 3, the final and timely volume of the Ignatz-nominated Black Eye, the anthology of humor and despair published by Rotland Press. This all-comics issue compiles 136 pages with a jaundiced eye on the zeitgeist. Subtitled "A Shameful Enlightenment," it is a riff on the absurdity of our times, as charted by a coterie of 36 international cartoonists. Black Eye No. 3 will thrill, sicken, amuse, titillate, horrify, and fortify. This event is an opportunity to bring together five of the contributing artists who are based in Chicago: Andy Burkholder, Corinne Halbert, Paul Nudd, Onsmith and Johnny Sampson. Copies of BLACK EYE No. 3 will be available for purchase, as well as a limited edition letterpress print by Paul Nudd, and a limited edition risograph print by UK artist Ben Jones. The Sightseer's Complement, a limited run, 40-page supplemental book to Black Eye No. 3 will also be available for purchase and signing.
  "Ryan Standfest brings together an exquisitely curated collection of funny, dark, and beguiling comic art for Black Eye No. 3. I'm going to read my copy by a roaring arson blaze."  —Kaz, Creator of the comic strip Underworld
The contributors to Black Eye No. 3 include: Alexis Beauclair, Tom Bunk, Andy Burkholder, Max Clotfelter, Mark Dancey, Kayla E., Vincenzo Fagnani, Penelope Gazin, Julia Gfrörer, Anna Haifisch, Corinne Halbert, Eric Haven, Ian Huebert, Alejandro Jodorowsky, Clara Bessijelle Johansson, Francis Kulikowski, Meghan Lamb, David Lynch, John Maggie, Nicolas Mahler, Jérôme Mulot, Erik Nebel, Paul Nudd, Onsmith, Pierre La Police, Helge Reumann, Josephin Ritschel, Martin Rowson, Florent Ruppert, Johnny Sampson, David Sandlin, S. William Schudlich, Santiago Sequeiros, Sammy Stein, Brecht Vandenbroucke, Chris Wright The cover is by Joan Cornellà. The book is edited by Ryan Standfest.
Founded in 2010, ROTLAND PRESS is a small publishing house located in Detroit, Michigan, USA. It is a publisher of printed projects that promote subversive humor— be it black, dark, gallows, satirical or absurd. ROTLAND PRESS aims to occupy a place between the mainstream and the avant-garde, the philistine and the genteel, industriously manufacturing the finest in despairing entertainment. Ryan Standfest in the Publisher and Editor-In-Chief. More info: rotlandpress.com
Sat, Feb 18th, 7pm – Free Event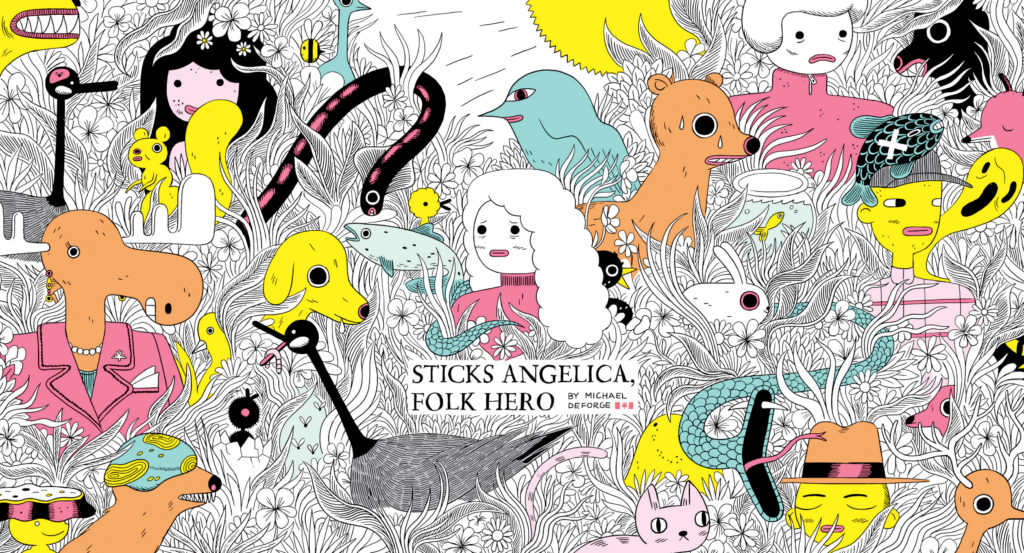 Join Michael DeForge for a live reading and book signing as he introduces the world to Sticks Angelica, Folk Hero. Sticks has escaped her heritage for the refuge of the woods and through her story, DeForge delivers another deeply humane work, one that subtly questions the integrity of the political state and contemporary journalism, all while investigating our relationship to the natural world.
Michael will be joined by musician Sadie Dupuis (Sad13, Speedy Ortiz) who will play a solo set following the reading. Come out for a celebratory lo-fi comics night!
Invite your friends with the Facebook invite here!
Author Bio:
Michael DeForge was born in 1987 and grew up in Ottawa, Ontario. His one-person anthology series Lose has been nominated for, or won, every major comics award including the Ignatz and Eisner awards. His previous graphic novels with Drawn & Quarterly are Ant Colony, Big Kids, and First Year Healthy. This March he releases Sticks Angelica, Folk Hero.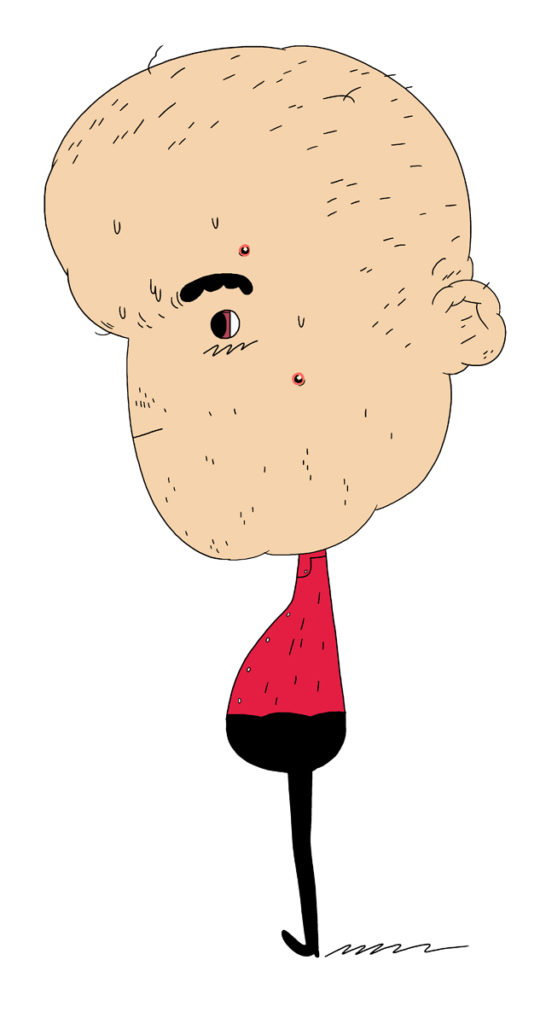 Sadie Dupuis is a musician, writer and artist who most frequently performs as the frontdemon of the rock group Speedy Ortiz, which has released two critically acclaimed albums for Carpark Records. She also writes politically-geared pop songs under the moniker Sad13. Based in Philadelphia, her writing on music has been published in Spin, New York Magazine, and Nylon, and she earned an MFA in poetry from UMass Amherst.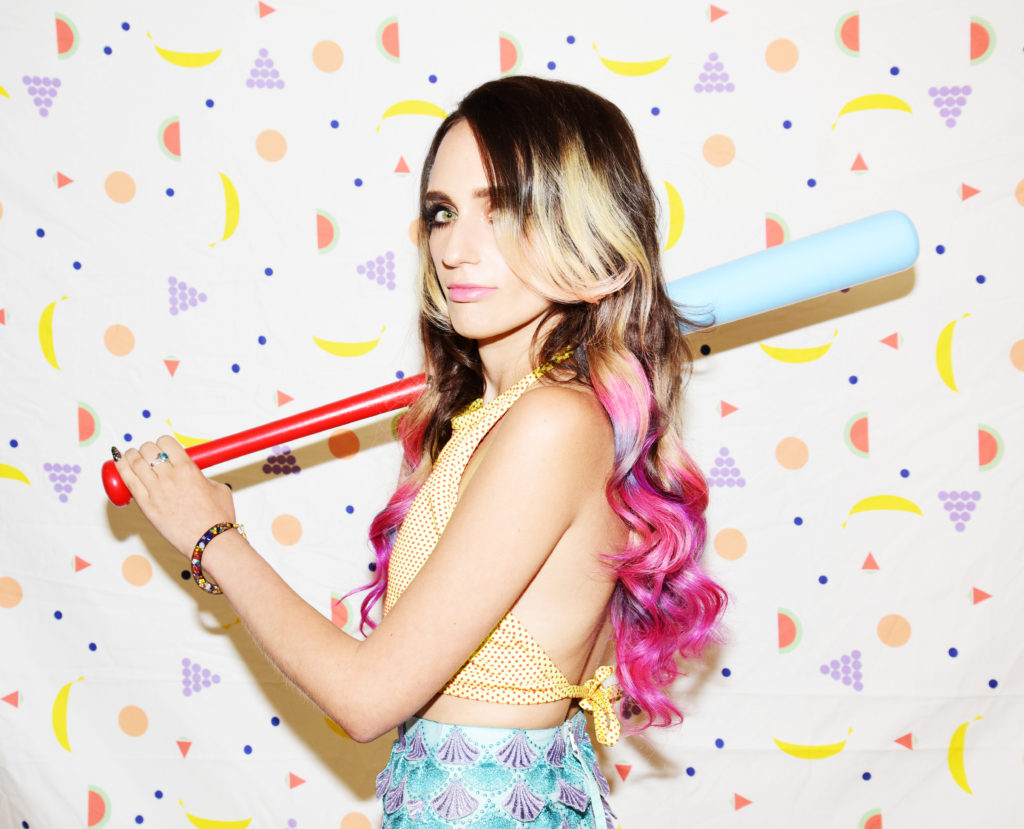 Sat, March 25th, 7pm  FREE EVENT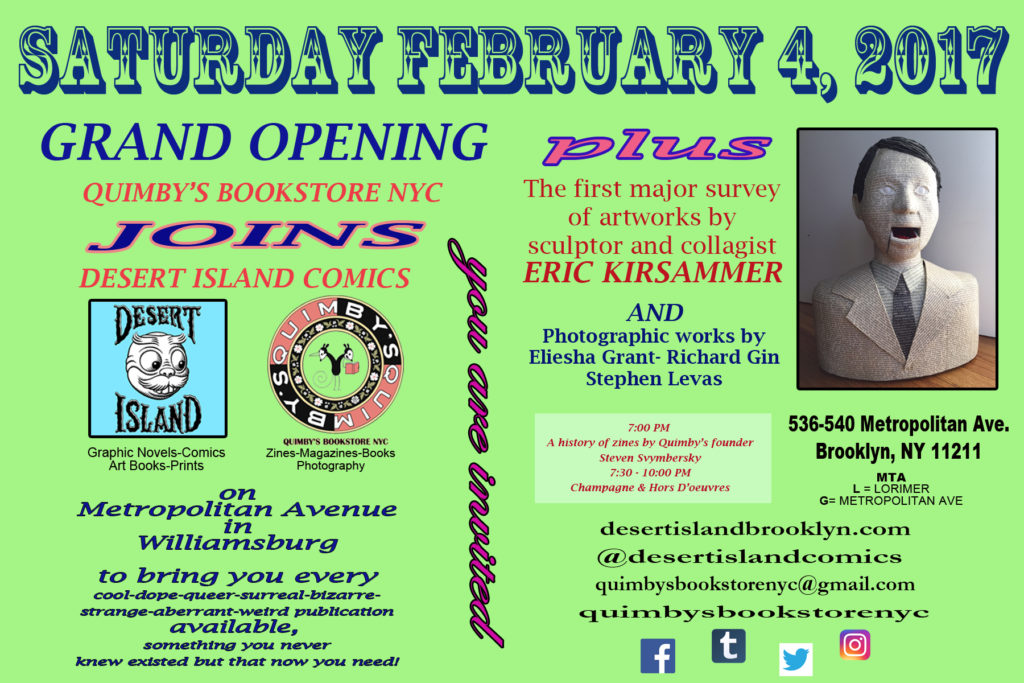 GRAND OPENING
QUIMBY'S BOOKSTORE NYC
SATURDAY FEBRUARY 4th, 2017
7:00 – 10:00
At 7:00 PM, Steven Svymbersky will give a short slide show talk on the history of zines followed by champagne and hors d'oeuvres.
This event is also the opening for the first major survey of works by sculptor and collage artist, Eric Kirsammer.
Quimby's Bookstore NYC
536 Metropolitan Ave
Brooklyn, NY 11211
quimbysbookstorenyc(at)gmail(dot)com
quimbysbookstorenyc can be found on Facebook, Instagram, Twitter & Tumblr
Quimby's Bookstore NYC joins Desert Island Comics on Metropolitan Ave in Williamsburg to bring you every cool, queer, sick, rad, aberrant, dope, weird, impossible publication available, something you never knew existed but that now you need.
Steven Svymbersky originally opened Quimby's Bookstore in Chicago's Wicker Park neighborhood in 1991.  That store recently celebrated their 25th anniversary. Quimby's specializes in zines, alternative magazines and underground books. Subject matter includes LGBTQ, Anarchism, Tattooing, Creative Resistance, Drugs, Minority and Women's Issues, Taxidermy, Occult, Punk Rock, Cycling, Urban Farming, Vegetarianism, Morbid Anatomy, as well as the more outré artists working in fiction and photography. 
In December 2016, Svymbersky opened the second Quimby's location next door to Desert Island Comics (Best Comics Resource, Village Voice 2016). Desert Island has been on Metropolitan Ave over eight years.  Founder, Gabe Fowler is also the publisher of the comics anthology Resist!/Smoke Signals and every year in November organizes New York's largest underground comics convention, Comics Art Brooklyn.