Poster artist Keith Herzik stopped by with his dog Herzog.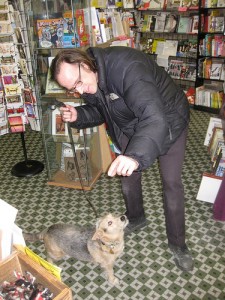 1. Cometbus #54 In China With Green Day by Aaron Cometbus $4.00
2. Boys Club #4 by Matt Furie (Pigeon Press) $6.00 – More boners, more pizza, more roommates, more stoney-baloney plus also some barfing. I'm not going to tell you twice: zit's awesome. -EF
3. Thai Comic Horrors vol 1, by Khun So and Krit, ed. by Logan $3.00 – Esteemed Quimby's alumni/expat Logan sent us this double-header of Thai pulp comics translated to English for the first time! This issue is comprised of two stories, "The Ghost That Comes to Steal Your Heart" and "Hunt For the Hell Drugs". Hell yes, those titles are great- and would you believe the actual comics are EVEN BETTER? They are! Classic carnage with visual flair, packed full of jungle ghouls, beautiful babes and poor moral judgement. -EF
4. Proximity #8 Education As Art $12.00 – Writing the book on learning as art and the art of learning: Proximity #8 comes from all angles, focuses, builds, supports. Weighing in at 232 pages, this volume does an exceptional job with a wide variety of profiles, interviews and portfolios and essays, staying both solidly local and vitally connected, you'd be hard pressed to find a smarter art magazine.
5. Quimby's Exclusive: Is It THE FUTURE Yet? by Corinne Mucha $3.00 – What does the future hold for you? Well, I predict you will fall madly in love with Corinne's amazing new mini-comic, Is It the Future Yet?, which she made 'specially for Quimby's! I see you laughing out loud at the fresh psychic hijinx and time-travel schemes that grace every delightful page. I can see your love for this comic growing rich, deep, and strong and you will find it brings you much good luck and happiness as years go by…Yes, my friend, the future looks very bright indeed!
6. Revolution: The Year I Fell In Love And Went To Join The War by Deb Olin Unferth (Holt) $24.00
7. Anarchist Bicycle Rally Confidential – Mad Libs Critical Mass by Joe Biel (Micorcosm) $4.50 – "It's the second issue of the Expozine Award Winning Bipedal, By Pedal. Last time around we got a social history and tactics lesson about the Critical Mass bicycle activist movement. For this issue BPBP2 editor-dude Joe Biel collected legal documents pertaining to the Portland Police Department's nefarious, illegal crackdown campaign on the local Critical Mass movement. Obtained by Freedom of Information Requests, Biel shows through once-secret police and court documents that Portland Critical Mass did not in fact die out, it was brutally torn down by the cops in an organized campaign of intimidation and spy work. The Portland Police broke the law and Critical Mass was the causality. Portland is, of course, one of the best North American cities for cycling and Critical Mass is gone. This zine is a rally call for bike activists. Don't let this happen in your hometown! If that isn't interesting enough, the documents are redone as Mad Libs. This is a companion piece to Biel's upcoming documentary, Aftermass: A Post Critical Mass Portland."
8. New Character Parade by Johnny Ryan (Pigeon Press) $12.00 – Oh Gross.
9. Henry and Glenn Forever Perfect Bound Deluxe New Edition by Igloo Tornado (Micorcosm) $6.00 – The gay love of Henry Rollins and Glenn Danzig? I'd get in that van.-EF
10. Neighbourhood Sacrifice $2.00 – Drawings of altars, egos, and dimensional portals to comics hell by Michael DeForge, Jesjit Gill and Steph Davidson. Basically all the news thats fit to print. -EF