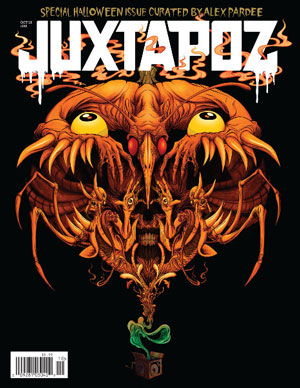 The most recent issue of Juxtapoz is at #3 this week. Halloween is only 42 days away!
Congratz to the recipients of the 2012 Ignatz Awards, which were announced at SPX, the Small Press Expo in Bethesda, Md. this past weekend. Current Chicago local Corinne Mucha won Outstanding Mini-Comic for The Monkey in the Basement and Other Delusions (Retrofit Comics) and former Chicago local Anders Nilsen won Outstanding Graphic Novel for Big Questions by (Drawn & Quarterly)!
1. Rookie Yearbook One ed. by Tavi Gevinson (D&Q) $29.95 – Collection from rookiemag.com. You know who's cool? Teenage Girls, that's who. Tavi "Style Rookie" Gevinson and her online magazine Rookie embody this radness to a T -written largely by and for girls it's fun, critical, smart, shameless, pretty and goofy while being wholeheartedly feminist and deleriously stylish. Very awesome. -EF
2. Sweetmeats #1 by Edie Fake $2.00 – This is the story I did for Max Morris' awesome anthology Vacuum Horror last winter, reprinted as a little mini so I have something to offer when folks wanna trade zines. -EF
3. Juxtapoz #141 Oct 12 $5.99
4. Dazed & Confused vol 3 #13 Sep 12 $9.99
5. Year One by Ramsey Beyer $14.00 – Ramsey of "List" zine and "Everydaypants" comic unleashes her first book – diary comics detailing the her move from Chicago to Philadelphia, filled with reconnection, introspection and romantic complication.
6. My Friend Dahmer by Derf Backderf (Abrams ComicArts) $17.95 – Backderf puts together a memoir of high school in the washed out suburban seventies when he was classmates and comrades with grisly serial killer Jeffrey Dahmer.
7. This is How You Lose Her by Junot Diaz $26.95
8. Adbusters Sep Oct 12 #103 $8.95
9. Illustrated Press Chicago by Darryl Holliday and EN Rodriguez $12.00
10. CAKE Book 2012 $15.00 – This was pretty much the icing on the first Chicago Alternative Comics Expo: a bizarro 'thology/look book/rogues' gallery of modern graphic magic: 52 layers, lovingly assembled by Andy "whutta weirdo" Burkholder. Wanna slice of this? Yeah you do. -EF