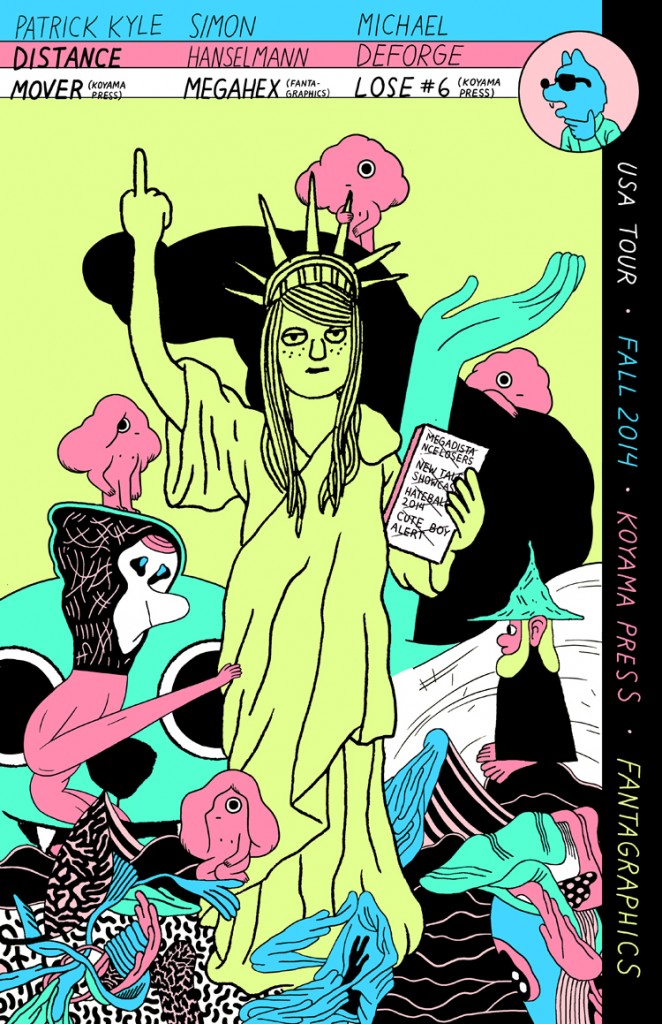 On Distance Mover by Patrick Kyle
Mr. Earth can move incredible distances in his improbable Distance Mover, a wondrous vehicle that reflects the fantastic world it traverses. He, and his young art-star protégée Mendel, explore culture-rich crystalline cities, challenge the mighty Council of the Misters, try to overcome the all-conquering Ooze, and much more! Distance Mover is a wonderful melange of genre and art. A high/low mixture that can be enjoyed as a straightforward adventure serial in the vein of Doctor Who or Flash Gordon, but it can also be enjoyed for its cutting edge art and cartooning. Kyle's cartooning and mark making recalls fine art traditions and skillfully delineates the alien worlds of Distance Mover. His amorphous and panel-less pages perfectly portray the cosmic worlds explored. Originally self-published and hand printed by Kyle, Distance Mover is known for its daring and inventive use of color. This is continued in the collected version, which utilizes limited spot coloring, gilding and a unique paper stock. Kyle's humorous and surreal sci-fi serial crosses artistic and genre boundaries. He reconfigures familiar tropes and images into a work that is perfect for genre enthusiasts, art lovers, and comic fans looking for something completely new.
PATRICK KYLE lives and works in Toronto, Canada. He is the co- founder and editor of Wowee Zonk, a contemporary comic book anthology featuring up-and-coming international artists. He has been previously nominated for Doug Wright and Ignatz awards for his self- published comic book series Black Mass and Distance Mover.
"Pure comics, heartbreakingly swift in its speed and span. Distance Mover is heady and hilarious, high and low, a tightly wound breakneck- paced science fiction epic, full of calamity and beauty. Quite literally this book will bend and blend your mind with time and space. Read it, and move great distances." — Jordan Crane, author of Uptight and The Clouds Above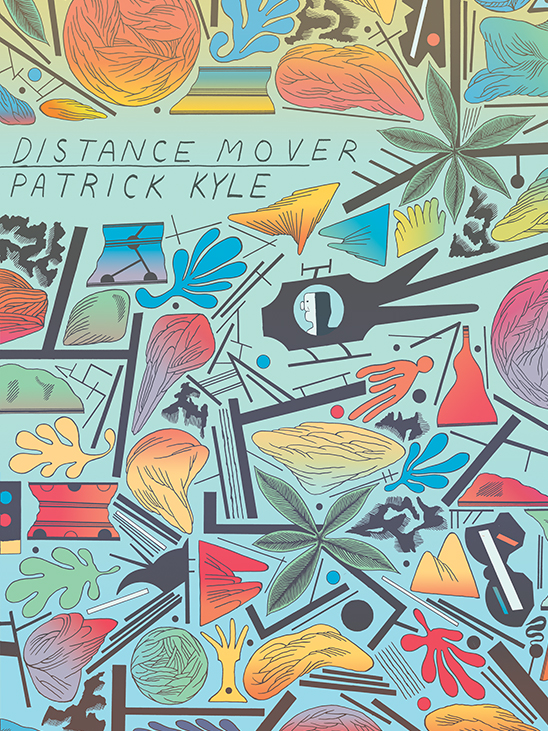 On Lose #6 by Michael DeForge
Lose #6 is the latest installment in Michael DeForge's one-person short story anthology series. Praised by Publishers Weekly as "one of his generation's most admired cartoonists," Michael DeForge is the vanguard of a new wave of alternative cartoonists, and Lose is his signature series. Lose is DeForge's place to experiment with a variety of comics of various lengths and style, from three-panel gag strips to longer narratives. Lose has been the preeminent showcase for DeForge's uncanny ability to show the creepy side of cute, and the manic side of the mundane. DeForge pries back the veneer of the everyday to reveal the half-formed and fantastic lying just beneath the surface. DeForge is a storyboard artist and prop designer for the mega-hit Cartoon Network program Adventure Time. One can see hints of that show's house style filtered through the Lynchian landscapes and otherworldly vistas of DeForge's vision.
MICHAEL DEFORGE currently lives and works in Toronto as a cartoonist, commercial illustrator, and as a designer for the hit Cartoon Network program Adventure Time. His one-person anthology series Lose has received great critical and commercial success, having been nominated for every major comics award including the Ignatz and Eisner Awards.
"Everything and everyone in his [DeForge's] drawings is dripping, bubbling and developing unsightly growths. He warps and dents the assured, geometrical forms of vintage newspaper strips and new wave-era graphics into oddly adorable horrors; his stories are prone to whiplash formal shifts." — Douglas Wolk, The New York Times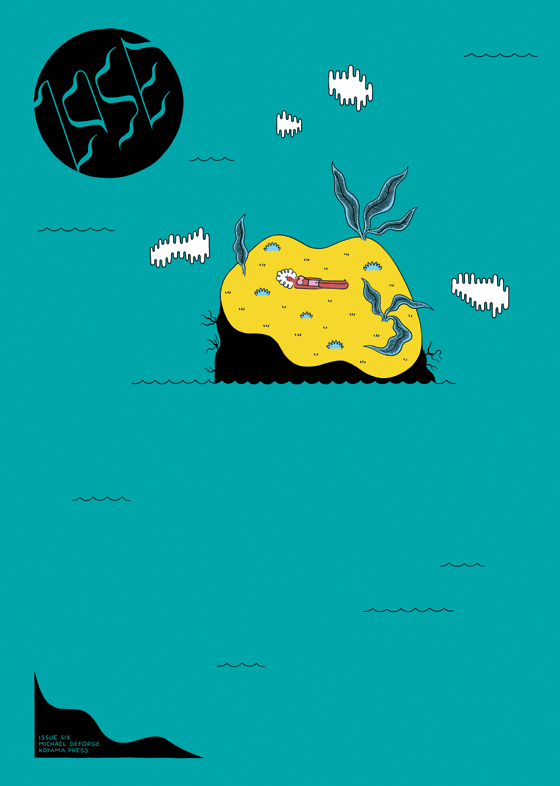 On Megahex by Simon Hanselmann
Megg is a depressed, drug-addicted witch. Mogg is her black cat. Their friend, Owl, is an anthropomorphized owl. They hang out a lot with Werewolf Jones. This may sound like a pure stoner comedy, but it transcends the genre: these characters struggle unsuccessfully to come to grips with their depression, drug use, sexuality, poverty, lack of work, lack of ambition, and their complex feelings about each other in ways that have made Megg and Mogg sensations on Hanselmann's Girl Mountain Tumblr. This collection of Hanselmann's work is sure to be one of the most talked about graphic novels of 2014, featuring all of the "classic" Megg and Mogg episodes from the past five years as well as over 70 pages of all-new material.
"Simon Hanselmann is the real deal, for sure. He captures that stoner stay-at-home life so accurately that I actually find his comics really depressing and thank god I don't ever have to hang out with anybody like that ever again." – Daniel Clowes
"It's the range of these characters' emotional register, and the beauty of Hanselmann's renderings of same, that make his work sting and stick. Watching these themes emerge from a funny-animal gag strip with weed jokes is a bit like seeing the Locas saga spring forth from the brow of Jaime Hernandez's old sci-fi stuff." – Sean T. Collins
"These are some of the best comics being made in the world right now, I really think so." – James Kochalka
"Hanselmann's team of bitchy fuckups possesses such a well-unbalanced chemistry of neurosis, aggression and nonchalance you just can't turn away. " – Edie Fake
"One of my favorite cartoonists in the world right now" – Dylan Horrocks