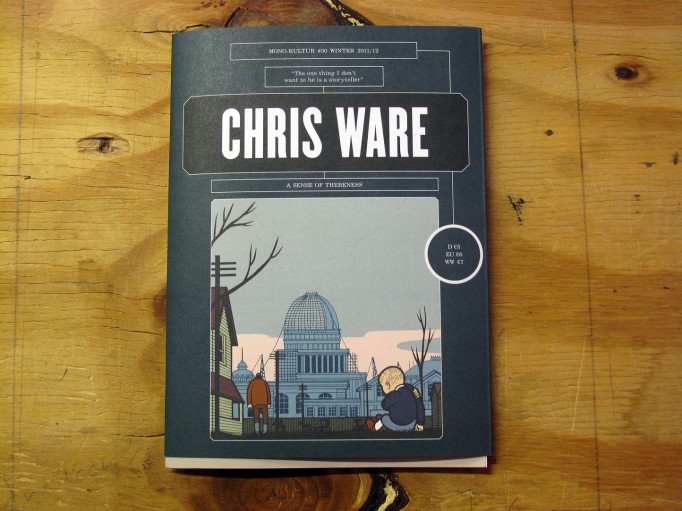 We're excited to have mono.kultur #30 – Chris Ware: A Sense of Thereness, Winter 2011/12 $15.00 – Interview by Urs Bellermann, artwork by Chris Ware.
Zines
Big Hands #9 by Aaron Lake Smith $4.00 – The first line I read of this zine when I randomly opened to a page in the middle of it had me hooked: "Overnight they had to drag an employee out of the plant after a vat of chemicals boiled over on top of him." -LM
Bestiary Captain Birthday Press by Michelle Yacht $3.00
Amazing Women #6 by Devan Elyse Bennett $2.50
Moms Mabley A Life by Devan Elyse Bennett $1.50
Goat Fucker #2 $6.00 – This second issue of GF is more zine-y than the first issue, which was more comics heavy. Text about occulty stuff, and would be a good companion zine to go with The Current. -LM
Ugly  No 1 #2 Feb 12 A Collection of Drawings and Crap by Matt Soria $4.00 – Attractive humour pamphlet with Shriglesque overtones. -EF
Broken Pencil #54 $5.95
Super Friends #1 $3.00 – Featuring found notes and pictures in the tradition of FOUND mag. Always interesting, no matter who is publishing it. It makes you want to hold on to or burn any evidence of photos you're in or your early published work (read: notes you wrote in junior high). -LM
Moral Fiber #2 and #4 by Chris Pernula $2.00 each – Clever pictures, quotes, drawings and what have you. David Shrigley meets street art, with some Fly-ish portrait renderings. Very funny. And snarky. Just the way I like it. -LM
Suitable 4 Framin #8 Win 11 $5.00
Oh My Word Picture That #1 by Kriss Stress $2.00
Meanwhile by Sydney Paula Benjamin Smith $2.00
The Inner Swine vol 17 #3 and #4 by Jeff Somers $2.00
Comics & Comix
Berlin #18 by Jason Lutes (D&Q) $4.95
Chameleon #2 2011 by Jesse Balmer et. al $10.00
Peehole #7 by Jim Donaldson $3.00 – Worlds collide! Welcome to the life of blood-drenched, skull-kissing, pantsless peacenik Danziggy! File this one next to Henry and Glenn Forever on your Danzig Humor Zeitgeist Shelf. -EF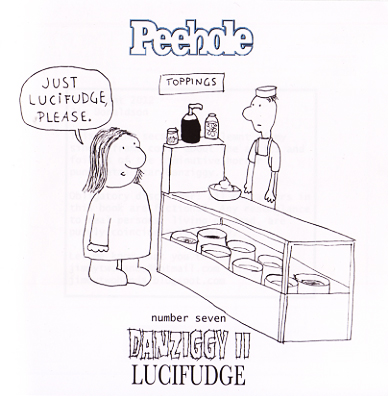 Wecome Fever Its Me the Magic #2 by Keenan Marshall Keller (DrippyBone) $4.00
Galactic Breakdown #4  by Keenan Marshall Keller (DrippyBone) $8.00
Brendan Wells Presents: Mickey Comics #2 Fantasia by Walt Disney Jr. $3.00 – Mickey drinks, Mickey swears, Mickey admits that Fantasia is boring. Isn't this way more interesting than the movie? – LM
Free Dog Food #2 Jan by Brendan Wells et. al $3.00
Station In Life #1 Dec 11 by Delia Jean Hickey $3.99
Vortex #1 by William Cardini $5.00 – The narrative of a primordeal blobby, swampy Paul Nudd-like goo, at once escaping and merging, in the "Hyperverse."
Graphic Novels and Trade Paperbacks
Chairs Hiatus by Matthew Bogart $9.00
Athos in America by Jason (Fantagraphics) $24.99
Preacher Book Three HC by Garth Ennis et. al (Vertigo) $39.99
Jinchalo by Matthew Forsythe (D&Q) $17.95
Batman Time and the Batman TPB by Grant Morrison et. al (DC) $14.99
Batman and Robin Batman Reborn  by Grant Morrison et. al (DC) $14.99
One Model Nation by C. Allbritton Taylor and Courtney Taylor (Titan) $24.95 – This is the epic journey of art noise band One Model Nation, the final dark days of the Baader-Meinoff Gang, and the band's mysterious disappearance only months later. It's by Courtney Taylor, from the band The Dandy Warhols and Jim Rugg, the co-writer and artist of Street Angel.
The Saga of the Swamp Thing HC Book Five by Alan Moore et. al (Vertigo) $29.99
Art & Design Books
Bellas Pockets by Lisa Bauso (Read Leaf) $19.95
The Delusional Story of the Jonathan LeVine Gallery by Caleb Neelon (Gingko) $34.95
Every Man Is My Enemy: Skinner (Gingko) $29.95 – Influenced by 80s pop culture, human struggle, myths and violence, dungeons and dragons, and the heavy metal gods, Skinner's mind is one full of mayhem fueled by a calculated chaos. His work has been featured in many publications, including Blisss, Juxtapoz, Hi Fructose, and Beautiful / Decay. This is just one of the many images in this book.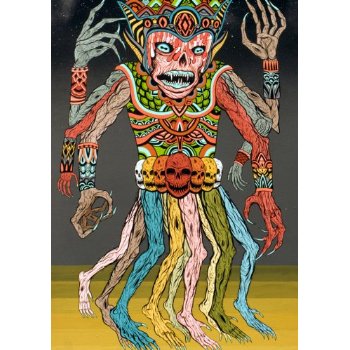 Closer by Soren Solkaer Starbird (Gingko) $35.00 – Amazing photographs of many of the world's leading musicians from this Danish photographer: Amy Winehouse, Lily Allen, The White Stripes, Kate Nash, Metallica, Damon Albarn and more.
We Own the Night: The Art of the Underbelly Project by Workhorse and PAC (Rizzoli) $35.00 – From early 2009 to mid-2010, the Underbelly Project was the world's best-kept urban art secret. This is the only book documenting the project, during which the world's leading urban artists, such as Swoon, Faile, Revok, and Lister, made late-night trips to an abandoned New York City subway station, painting night after night to transform the space into the largest underground art gallery in the world.
DIY
Seed to Weed: A Pot Enthusiasts Guide to Growing Marijuana by Chris Stone $13.99
Sillk Screen Basics: A Complete How To Handbook by Claire  Dalquie et. al $24.95
Fiction
The Coincidence Engine by Sam Leith $23.99 – The tale of fascination with a random event sets into motion a madcap caper that will bring together an eccentric mathematician, last heard of investigating the physics of free will, a lovelorn Cambridge postgraduate and more.
Moment in the Sun by John Sayles (McSweeneys) $18.00
Simple Machine Like the Lever by Evan P Schneider $14.00
Node by Tito Perdue $12.00
Mayhem, Miscreants, Memoirs & Misc
Hannibal and Me: What History's Greatest Military Strategist Can Teach Us by Andreas Kluth (Riverhead) $26.95
Frank Reade: Adventures in the Age of Invention by Paul Guinan and Anina Bennett $24.95 – Before Jules Verne's flying machines and H. G. Wells's spaceships, there was Frank Reade, globe-trotting inventor and original steampunk hero. Frank Reade magazines were the world's first science fiction periodicals, enthralling millions of readers with tales of fantastic inventions and adventures. Now many of the spectacular images from the vintage dime novel series are being reprinted for the first time in more than a century, along with excerpts from the action-packed stories.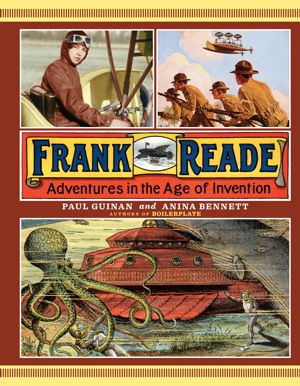 The Electric Information Age Book: Mcluhan/Agel/Fiore and the Experimental Paperback by Jeffrey Schnapp and Adam Michaels $22.95 – Zinesters take note! There's a cultural cut and paste in the house.
Great American Cereal Book: How Breakfast Got Its Crunch by Marty Gitlin $19.95
Magazines
Juxtapoz #134 Mar 12 $5.99
Wholphin #15 DVD $19.95
Zingmagazine #22 $30.00
There Magazine #13 $15.00
Eyemazing 2011 #4 $35.00
Mermaids and Mythology #2 $8.99
Tattoo Revue #157 $7.99
Witches and Pagans #24 $6.00
Skeptic vol 17 #1 $6.95
Mojo #220 Mar 12 $9.99
Record Collector Feb 12 $10.50
Mixmag #249 Feb 12 $10.50
Uncut Mar 12 #178 $9.99
Adbusters Mar Apr 12 #100 vol 20 #2 $8.95
In These Times Feb 12 $3.50
The Progressive Feb 12 $4.95
Radical History Review Win 12 $14.00
Tattoo #272 Apr 12 $6.99
Tattoo Savage Apr 12 #119 $7.99
Xalt vol 1 #1 $5.95 – A new tattoo and body art mag
Rebel Ink Magazine Mar 12 $5.99.
Literary Journals, Chap Books and Poetry
N Plus 1 #13 Win 12 $13.95
Creative Nonfiction #43 Fall Win 11
Elephant #9 Win 11 $19.99
PEN America #15 $10.00
Coffin Factory #2 $9.00
Pank #6 $15.00
IdN vol 18 #6 $17.95
Other Stuff
Beci Orpin Blank Notebooks: Lost Girl, Bear Magic $7.95 each
Free Wheelin Loony by Sid Yiddish $10.00
Not everything listed here is available on our website; much of it is in the brick and mortar store. To see new items available for purchase on quimbys.com click here.