Best Game Ever Card Game $8.00 – It's a card game about zines! By Billy "Proof I Exist" the Bunny and and AJ Hermz. Also this week we received Billy's Last Night at the Casino #3 Jun 12.
I Don't Know Anything About This But $3.00
Zines & Zine-Related Books
Unapologetic #3 The Journal of Irresponsible Gender by Anne Tagonist $2.00 – From a transsexual punk persepctive.
Bound to Struggle vol 3 Language Where Kink and Radical Politics Meet $3.00
Suitable 4 Framin #9 Sum 12 $5.00
Field Guide to the Aliens of Star Trek: The Next Generation Seasons #6 and #7 by Joshua Chapman $2.00
Fakeizm #1 by Tone $10.00
Backstage Past #1-#3: True Stories of Rock Encounters by MC Orly $3.00 each
No Better Than Apples #8 $3.00
Happy and Crotch vol 1 #1 by Alicia Obermeyer $1.50
Wenn Man Den Kleinen Finger Dem Teufel Zeigt So Nimmt Double Zine $12.00
Offline #2 by Emily Haasch and Darrin Higgins $5.00
Printed Blog #8 Deja Vu Issue $3.00
Cherrypepper #5 Marc Calvary $20.00 – Remember that zine from the early oughts about pin-up style porny pictures of girls in Eugene, Oregon? Lucky you, now there's this box set contains 6 zines a polaroid and a sticker.
Comics & Comix
Lou #6 by Melissa Mendes $1.00
Moose #9 and #10 by Max deRadigues $1.00 each
All sorts of awesomeness from Oily Comics, including:
Malichi Ward In Conversation with Sean Ford Jun Jul 12 by Sean Ford, Malichi Ward and Melissa Mendes, Word and Voice #1 July 2012 by Aaron Cockle, Close Your Eyes When You Let Go #1 (of 3) by James Hindle, End of the Fucking World #10 by Charles Forsman, Dont Stop Me Now #1 and #2 by Gariet Cowin
Daucus Carota #2 $5.00
Laskimooses #5 Alustavia Tieoja & Laskimooses #6 Eksytyksen Tiella by Herra Matti Hagelbergin $6.00 each – Hagelberg's game-changing scratch builds the world and his sick/stick story stagger makes it a punker place to be.-EF
Graphic Novels and Tradepaperbacks
Crackle of the Frost by Lorenzo Mattotti and Jorge Zentner (Fantagraphics) $19.99
Comics Sketchbooks: Private Worlds of Todays Most Creative Talents by Steven Heller $44.95
Aya: Life In Yop City by Marguerite Abouet and Clement Oubrerie (D&Q) $24.95 – Collects three books in the Aya series.
Scalped vol 8 You Gotta Sin to Get Saved TPB by Jason Aaron et al. $17.99
Prince of Cats by Ron Wimberly $16.99
Hugo Tate by Nick Abadzis $19.99
Art & Design
Pataphysics: A Useless Guide by Andrew Hugill (Semiotexte) $24.95
Fiction
Skagboys by Irvine Welsh $26.95
Music Books
Will Oldham on Bonnie Prince Billy by Will Oldham and Alan Licht $16.95
Politics & Revolution
Bauxite Strike and the Old Politics by Eusi Kwayana $20.00
Occupy Nation: The Roots the Spirit and the Promise of Occupy Wall Street by Todd Gitlin $12.99
Making of the Indebted Man (Semiotexte intervention series #13) by Maurizio Lazzarato $13.95
Magazines
Juxtapoz #141 Oct 12 $5.99
Pop Magazine #27 Fall Win 12 $14.99
High Times Nov 12 $5.99
Gastronomica vol 12 #3 $12.99
Wax Poetics #52 $11.99
SSLM vol 14 Aug 12 Same Sex Life Magazine $5.00
Other Stuff
Little Pack of Scraps by Echo $3.00 – Twelve pieces of mostly vintage ephemera. Might I suggest pairing up a package with one of our fine grab bags that you can only purchase in the store and not on our website? A fine choice. -LM
Magic Guillotines and Magic Drawers $5.00 each – Startle and stun or baffle and bamboozle with simple step-by-step instructions to help you master the magic in minutes!
Vintage replicas of winding tin toys in various shapes and sizes and prices. A pecking chicken! A monkey on a tricycle! A robot on a bike! UFOs!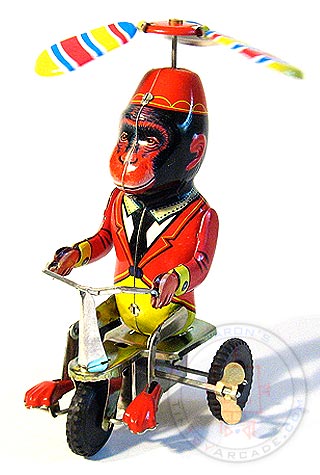 Tricerachops Meat Chart Mug by Jay Jay Burridge $10.00
Wild Bunch Woodland Paper Clips $6.00
Restocks!
The usual whole mass of Vertigo graphic novels (Watchmen, Sandman, Transmetropolitan, 100 Bullets, Grant Morrison titles), Dal Tokyo by Gary Panter, Ubik by PK Dick, One Hundred Demons by Lynda Barry, issues of Ganges by Kevin Huizenga, Housewives at Play: Original Recipe, Walking Dead graphic novels, Monologues For Calculating The Density Of Black Holes by Anders Nilsen, issues of Papercutter, Pictures For Sad Children by John Campbell, Complete Ouija Interviews by Sarah Becan, Liz Prince minis, Meat Cake collected by Dame Darcy, issues of Berlin by Jason Lutes, OP Original Plumbing issues #5-#8, Green River Killer: A True Detective Story, Love and Rockets New Stories vol 4 by Jaime Hernandez, Milk and Cheese Dairy Products Gone Bad by Evan Dorkin and more!
The things listed in this list are at our brick and mortar store at 1854 W. North Ave. Occassionally we make some of it available for mail order on our website, but we curate what we put up there. To see which new items are on our website, see quimbys.com/store and mail order them for prompt home delivery.