Only a few weeks until Chicago Zine Fest! Neil shows off a first peek at CZF buttons and t-shirts.
ZINES & ZINE-RELATED BOOKS!
No Better Than Apples #7 $3.00
When the Crash Meets Something Solid #5 – Things to Embarass Mother by Gabrielle Congrave $3.00
Lower East Side Librarian Winter Solstice Shout Out 2010 by Jenna Freedman $2.00
Ninja Punks vol 1 $2.00 – Compiles the first 3 issues.
Jail HIV Stalking Threats and Vanna – $10.00

Dear God, I Hate Myself – Special Edition Box Set by J. Morrison and Jamie Stewart $40.00 – Fancy pantsy. In conjunction with Xiu Xiu's "Dear God, I Hate Myself" album, Brooklyn artist J. Morrison and Xiu Xiu lead singer, Jamie Stewart collaborated on a limited edition box set. Morrison created twelve new drawings to correspond with the twelve songs on the album, and in turn Stewart wrote twelve new unpublished haikus to accompany them. They come unpackaged in a glossy black jewelry box with handwritten gold ink covers.
Your 100 Percent You're 100 Percent B by Sveta $1.00
So Me and You Are Reading This Zine And Youre All Like Whoa This Is Great…#5 Mar 11 by Justin Michael Valmassoi $3.00
Fuck Would I Say What For #1 Mar 11 by Justin Michael Valmassoi $4.00
Good Fine Okay #1 by Marissa F $2.00
COMICS & MINI COMIX!
160 Page Package by Steve Ditko (Sparkplug) $12.00
Oh No Not Again – Odds and Ends Ditko by Steve Ditko (Sparkplug) $4.00
Dig Yourself Out by Tony Rabit $1.00
Ugle People #1 by Zack Empire – Zackery Jackson $3.00
Underpanting by Matt Wiegle (Sparkplug) $1.00
Nine Gallons #1 by Susie Cagle (Sparkplug) $5.00
Nurse Nurse #3 by Katie Skelly (Sparkplug) $3.00
Social Discipline #1 by Ian Sundahl (Sparkplug) $4.00
ART & DESIGN BOOKS!
Power Up Female Pop Art (DuMont) $45.00
Chen Ke: Hard Boiled Wonderland at the End of the World by Ke Chen (Timezone 8) $30.00
Compendium of Secrets by Trevor Paglen (Kerber) $37.50
Cult Ure Ideas Can Be Dangerous by Rian Hughes (Fiell) $45.00
Custom Lettering of the 40s and 50s by Rian Hughes (Fiell) $45.00
Everything Is Going To Be OK (Chronicle) $12.95 – This pocket-sized volume is filled with artwork bearing mottos of encouragement and affirmation. Featuring work from a diverse roster of indie artists, designers, and crafters—including beloved figures such as Mike Perry, Marian Bantjes, Marc Johns, Enormous Champion, and Yee-Haw Industries, as well as a host of emerging new talents.
Graffiti Art Coloring Book by Aye Jay (Chronicle) $9.95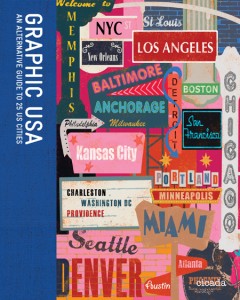 Graphic USA: An Alternative Guide to 25 U.S. Cities ed. by Edited Ziggy Hanaor (Cicada) $30.00
Krampus: The Devil of Christmas ed. by Monte Beauchamp (Last Gasp) $18.95
GRAPHIC NOVELS & TRADE PAPERBACKS!
Mome vol 21 Win 11 (Fantagraphics) $14.99 – Sara Edward-Corbett cover & story, plus Weissman, Ponchione, Simmons, Bak, Van Gieson, Mahler, Shaw, Kaczynski, Wolfgang, Adams, Carré, and newcomer Nick Thorburn.
Freeway by Mark Kalesniko (Skyhorse) $28.99
Krazy and Ignatz 1919-1921 by George Herriman (Fantagraphics) $24.99
Popeye vol 5 Whas a Jeep HC by EC Segar (Fantagraphics) $29.99
Popeye: The Great Comic Book by Bud Sagendorf (IDW/Yoe) $29.99
Jack of Fables vol 7 New Adventures of Jack and Jack by Bill Willingham etc. (Vertigo) $14.99
DIY
Ultimate Guide to Homesteading: An Encyclopedia of Independent Living (Skyhorse) $14.95
WorldChanging: A Users Guide For the 21st Century (Revised and Updated) by var. (Abrams) $24.95
FICTION!
The Art of Asking Your Boss For a Raise by Georges Perec (Verso) $16.95
The Ask by Sam Lipsyte (Picador) $15.00 – Now in soft cover.
MAGAZINES!
Bitch #50 $5.95
True Crime Feb 11 $8.99
Murder Most Foul #79 $9.99
Meatpaper #14 $7.95
Fader #72 Feb Mar 11 $5.99
Z Magazine Mar 11 $4.95
Tattoo Society #26 $7.99
LITERARY JOURNALS, CHAP BOOKS & POETRY!
Believer #79 Mar Apr 11 2011 Film Issue $10.00
Mojo #209 Apr 11 $9.99
Deadline Annualis #1 $17.00
Ninth Letter vol 7 #2 $14.95
MUCKRACKING, MEMOIRS, MAYHEM, MISCREANTS & MISCELLENOUSNESSESESNESS!
Art That Kills: A Panoramic Portrait of Aesthetic Terrorism 1984-2001 ed. by George Petros (Creation) $26.95 – Art That Kills examines the point where art meets crime. The book documents a diabolical era, 1984-2001. It chronicles the evolution of a new aesthetic movement, a terrifying fringe of Underground Art where enlightenment and depravity combined. Murder, rape, torture, pedophilia, cannibalism, drugs, sedition, racism and blasphemy mixed with literature, history, politics, news, movies, TV, punk rock, philosophy and science. The book profiles a pantheon of dissidents and deviants, presents excerpts from their work, re-lives their crimes, and attempts to analyze an elusive era. The scene described herein is essentially the "second generation" of American Underground Art (the "first generation" ran from '66 through the 70s). All varieties of taboos and criminal advocacy found confluence, beyond "confrontation" or "shock." Pure sadism drove it. Sexual psychosis flavored it. Frustration with politics, big business and mass entertainment fueled it. GG Allin, Jim Goad, Lydia Lunch, Adam Parfrey, Genesis P-Orridge, Anton Lavey and all manner of usual suspects.
The Cynic's Guide to a Rich and Full Life by Mario DiGiorgio (Last Gasp) $11.95
Blood Work: A Tale of Medicine and Murder In the Scientific Revolution by Holly Tucker (Norton) $25.95
Tracking the Chupacabra: The Vampire Beast In Fact Fiction and Folklore by Benjamin Radford (U of NM Press) $24.95
Stretch – Coming of Age in Post War Germany by Gunter Nitsch $10.00
Aerotropolis: The Way Well Live Next by John D. Kasarda and Greg Lindsay (FSG) $30.00
MUSIC BOOKS!
Hot Stuff: Disco and the Remaking of American Culture by Alice Echols (Norton) $17.95 – No in soft cover.
Hüsker Dü – The Story of the Noise Pop Pioneers Who Launched Modern Rock by Andrew Earles (Voyageur) $24.00 – Biographical portraits of band members, stuff about their early days, nonstop touring, and defiant embrace of the DIY ethic, all in thoughtful criticism of their work.
SEX & SEXY & SEX CULTURE!
Seth by Christopher Schulz $10.00 – Does Seth Rogan know he posed for this sexy zine, featuring his naked form delictely drawn in various sexy poses?
RFD #145 Spr 11 $9.95
Housewives At Play – Do As You're Told by Rebecca (Eros) $9.99
Bunnyhead Porn A Flip Fuck Book by J. Morrison $25.00