ZINES!
Whore Eyes #4 by various (Drippy Bone) $11.00 – One meaty thickpack of 3 sickosauce artzines from Jessie Lowe, Lachlann Rattray and Adam Shaw AND a 80-minutt rambunk cd compilation -EF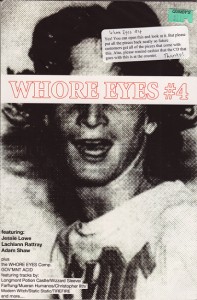 Minimum Rage: A Series of Bad Events Overflowing With Fuck Ups Know It Alls and Pansies – The Life Story of That Guy Whos Name You Can't Remember (Drippy Bone) $4.00
Death Trip by Shalo P and Peter Gray Hurley $7.00 – "This new release sees the artists respectively knashing their teeth at their obsessions and desires, tearing inward into depictions of fear, isolation and charming forms of nihilism, revealing a common theme of self-defeating anxiety that propels them into "the spiritual pursuits of the street". the images collide and play off each other, dancing in full cover spreads and stark black and white pages like twisted visions shared by dreamers on different planes of existence. DEATH TRIP is ultimately a book for those not content with conventional imagemaking but at ease in shredding beyond its basic fabric into the emotional sparseness and infinite lushness we bear as human beings ruled by strange and powerful desires." – Shalo P on DEATH TRIP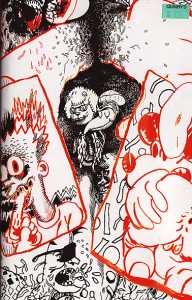 Human Storage by John Henry Kelly (Drippy Bone) $4.00
Birdsong #15 $6.00
Graffiti Coloring Book vol 1 Get Ur Magic Marker Wet Cuz This is the Jafolio $20.00
Losing Things Is Easy – A One Off Zine with Original Poetry Drawings and Photos by Franziska Andonopoulos $2.00
You and Everyone You Know is Damaged in Innumerable Secret Ways And Most… $2.00
Wanderlust Herbal $2.00
Fiesta Del Sol 2011 by M. Miller $10.00
Sensation #1 by Gene Booth and Grace Tran $3.00
Put a Egg On It #4 Sum Fall 11 $7.00
Bullet Breath #1 $1.00
Jimmy #1 Greenwood $7.00
Take a Trip On a Cloud by Thad Kellstadt $8.00
KerBloom #91 Jul Aug 11 by Artnoose $2.00
DIY or Dont We #3: A Zine About Doing Things Together by Nicki $3.00
Somnambulist #17 by Martha Grover $3.00
COMICS! COMIX!
Papercutter #17 (Tugboat Press) $4.00 – Featuring Jason Martin, Jesse Reklaw, Corinne Mucha, Frabncois Vigneault, Calvin Wong, Sarah Oleksyk, Hellen Jo, Vanessa Davis
Fungus #1 By James Kochalka (Retrofit Comics) $5.00
Gentle Soul by Lisa Vanin $6.95
Fall Is Here by Meghan Ansbach $4.00
Stars Were Exploding Meghan Ansbach $2.00
Echo Location #1 by Krystal DiFronzo $3.00
Map Makers Mansion by Kevin L Jensen $2.00
In The Woods by Kevin Jensen $2.00
You're Not Alone: Quotes from A Letter From Katherine Collins Relatable Life… by Rachel Swanson $3.00
Crass Sophisticate Color Cover #24 #25 by Josh Reinwald and Justin Rosenberg $3.00
Spirit House by Rylan Thompson $8.00
GRAPHIC NOVELS & TRADE PAPERBACKS!
Like a Sniper Lining Up His Shot by Jacques Tardi and Jean Patrick Manchette (Fantagraphics) $18.99
Hidden by Richard Sala (Fantagraphics) $19.99
Mome #22 Fall 11 $19.99
Americus by MK Reed and Jonathan Hill (First Sec) $14.99
Canterbury Tales by Geoffrey Chaucer and Seymour Chwast (Bloomsbury) $20.00
Feynman by Jim Ottaviani+var. (First Sec) $29.99
Water Wife by Rachel N Swanson $15.00
Steve Ditko Omibus vol 1 starring Shade the Changing Man (DC) $59.99
Do Androids Dream of Electric Sheep vol 5 HC (Boom) $24.99
Any Empire by Nate Powell (Top Shelf) $19.95
Green River Killer a True Detective Story by Jeff Jensen and Jonathan Case (Dark Horse) $24.99
CHILDRENS BOOKS!
Bake Sale by Sara Varon (First Second) $16.99
Charlie and the Chocolate Factory by Roald Dahl (Penguin) $15.00 – With an awesome Ivan Brunetti cover!
James and the Giant Peach by Roald Dahl (Penguin) $15.00 – Introduction by Aimee Bender and cover by Jordan Crane.
FICTION!
Skippy Dies by Paul Murray (Faber) $16.00 – Now in soft cover.
Postmortal by Drew Magary (Penguin) $15.00
DIY!
Foraging Self-Sufficiency by David Squire (Skyhorse) $12.95
Cookiepedia Mixing Baking and Reinventing the Classics by Stacy Adimando and Tara Striano (Quirk) $18.95
MAGAZINES!
Bitch #52 $5.95
Mojo #215 Oct 11 $9.99
Filter #45 $5.95
Design Bureau Sep Oct 11 $8.00
Artforum Sep 11 $10.00
Backwoodsman vol 32 #5 Sept Oct 11 $4.95
Dot Connector #14 $7.95
Skeptical Inquirer Sep Oct 11 vol 35 #5 $4.95
Flaunt #116 $10.95
Dwell Oct 11 $5.99
Diffusion #3 2011 $12.00
Treating Yourself #30 $7.99
Scootering #302 $8.99
Monocle vol 5 #46 Sept 11 $10.00
Z Magazine Sep 11 $4.95
The Progressive Sep 11 $4.95
Skin and Ink Nov 11 $6.99
LITERARY JOURNALS, CHAP BOOKS & POETRY!
The Believer #83 Sep 11 $8.00
So Sorry To See You Go by C. McGath $12.00
MAYHEM, MISCELLANY & OUTER LIMITS!
The Master Game: Unmasking The Secret Rulers Of The World by Graham Hancock and Robert Bauval (Disinfo) $24.95 – The Master Game refers to a scheme or "game" played on the world stage to bring about a world order governed by a lofty goal which, today, we term the "Masonic Ideal." The Master Game traces the origins of this game of symbols and words and talismans from ancient Egypt all the way to modern times, and places it squarely on the elitist Scottish Rite Freemasonry, headquartered in Washington, DC, and ruled by a secretive and powerful brotherhood of men who have attained the thirty-third degree. The Master Game exposes this world order's true purpose and, more importantly, shows how it has affected the United States of America and badly backfired on 9/11.
The Terror Conspiracy Revisited: What Really Happened on 9-11 and and Why Were Still Paying the Price by Jim Marrs (Disinfo) $17.95
Manifesto for the Noosphere: The Next Stage in the Evolution of Human Consciousness by Jose Arguelles (Evolver) $14.95
Half-Empty by David Rakoff (Anchor) $14.95
More Notes of a Dirty Old Man: The Uncollected Columns by Charles Bukowski (Citylights) $16.95
Wageslave's Glossary by Joshua Glenn and Mark Kingwell (Biblioasis) $11.95 – With illustrations by Seth.
MUSIC BOOKS!
Close to the Edge: In Search of the Global Hip Hop Generation by Sujatha Fernandes (Verso) $19.95
Everybody Loves Our Town: An Oral History of Grunge by Mark Yarm (Anchor) $25.00 – No, not by Mark Arm from Mudhoney. Mark Yarm. Everybody Loves Our Town captures the grunge era in the words of the musicians, producers, managers, record executives, video directors, photographers, journalists, publicists, club owners, roadies, scenesters and hangers-on who lived through it. The book tells the whole story: from the founding of the Deep Six bands to the worldwide success of grunge's big four (Nirvana, Pearl Jam, Soundgarden and Alice in Chains); from the rise of Seattle's cash-poor, hype-rich indie label Sub Pop to the major-label feeding frenzy that overtook the Pacific Northwest; from the simple joys of making noise at basement parties and tiny rock clubs to the tragic, lonely deaths of superstars Kurt Cobain and Layne Staley. "Yarm's affectionate, gossipy, detailed look at the highs and lows of the contemporary Seattle music scene is one of the most essential rock books of recent years." —Kirkus Review, *Starred Review*

POLITICS & REVOLUTION!
The F***ing Epic Twitter Quest of @MayorEmanuel by Dan Sinker (Simon) $12.00 – "The performance and identify of @MayorEmanuel, a fake Twitter account, captured the imagination nearly as much as the real politics" —The Atlantic.
We Are Wisconsin ed. by Erica Sagrans $18.00 – Wisconsin Uprising in the words of the activists writers and everyday wisconsinites who made it happen. Contributors include Michael Moore, Noam Chomsky, Van Jones, John Nichols, Medea Benjamin, Mike Elk, Andy Kroll, Tony Schultz, Ian Murphy, Allison Kilkenny, Billy Wimsatt, Chris Bowers, and more.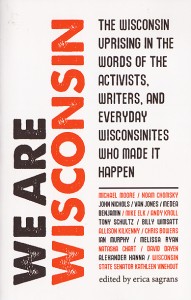 Signing Their Rights Away: Fame and Misfortune of the Men Who Signed the United States Constitution by Denise Kiernan etc. (Quirk) $19.95
Profit Over People: Neoliberalism and Global Order by Noam Chomsky (Seven Stories) $15.95
9-11 Was There an Alternative by Noam Chomsky – With a new essay written after the assassination of Osama Bin Laden.
Story of the Iron Column Militant Anarchism in the Spanish Civil War by Abel Paz (Biblioasis) $18.95
SEX & SEXY!
SPS #9 Sad People Sex by Heather Benjamin $3.00
Anal Intruders From Uranus #4 by Wes Crum (Eros) $3.95
Alt #3 $9.95
OTHER STUFF!
Fun little Otsu datebooks! Get your 2012 on now.