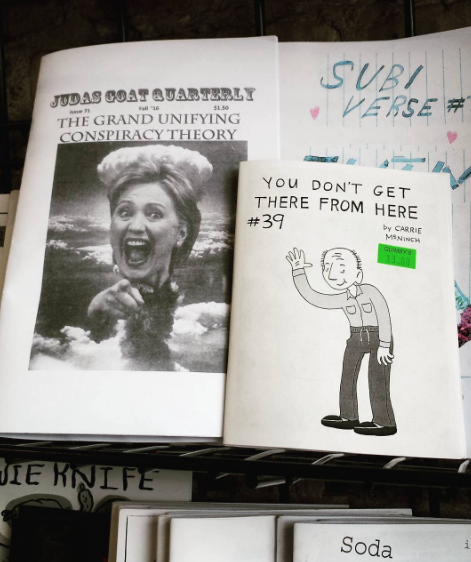 *ZINES*
Judas Goat Quarterly #71 Fall 16 by Grant Schreiber $1.50
Sub/Verse #7 by Chloe Graham $5.00 – This issue, the Chicago band Twin Peaks.
We'll Never Have Paris #13 West Coast by Andria Alefhi and Jaime Borschuk $4.00
Thanks For Listening by Andrew Dvorscak $8.00
*COMICS & MINIS*
Harvey and Me by Anne Elizabeth Moore and Melissa Mendes $8.00 – Anne Elizabeth Moore went on tour with Harvey Pekar to promote the first edition of the Best American Comics in 2006. This exquisatly drawn comic shares the pithy, funny and thoughtful experience of their tour in lovingly rendered detail. Drawn by Lou artist Melissa Mendes and with an essay by Brian Cremins. -LM
You Don't Get There From Here #39 by Carrie McNinch $3.00
Everyday Tales of Walter Hale by Cadin Batrack $5.00
Xoxomomomomi by Mo Chong $10.00
Island #11 $7.99 – Award-winning anthological comics mag, this issue: Matt Sheean, Malachi Ward, Grim Wilkins and Robin Bougie!
Spiral King Comics #7 and #8 by Guy Thomas (This City Press) $3.00 each
Dire by SK Henry $5.00
We're All Fine by Mary Climes $3.00
Bowie Knife Meat edited by Guy Thomas (This City Press) $7.00
Grixly #36 by Nate McDonough $2.50
*GRAPHC NOVELS*
Band For Life by Anya Davidson (fantagraphics) $29.99 – A misfit band of punks trying to self-sustain in an alternate Chicago. Don't miss Anya here at Quimby's on Thurs, October 6th to share this new exciting book that Gary Panter calls "a gutter punk Herculoids meets Josie and the Pussycats soap opera."
Best American Comics 2016 Edited by Bill Kartalopoulos and Roz Chast $25.00 – Featuring Lynda Barry, Kate Beaton, Cece Bell, Geneviève Elverum, Ben Katchor, John Porcellino, Joe Sacco, Adrian Tomine, Chris Ware, Julia Wertz, and others.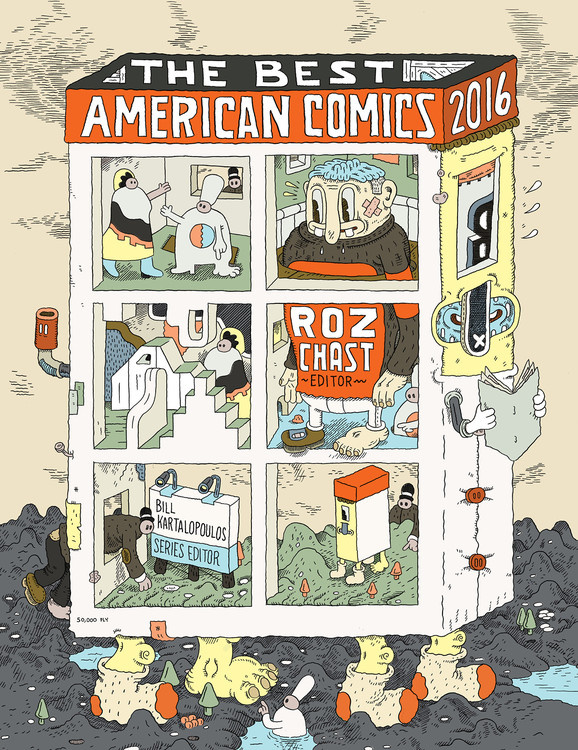 Becoming Unbecoming by Una (Arsenal Pulp Press) $24.95 – It's 1977 and Una is 12. A serial murderer is at large in West Yorkshire.
The Case of Alan Turing: The Extraordinary and Tragic Story of the Legendary Codebreaker by Eric Liberge and Arnaud Delalande (Arsenal Pulp Press) $23.95
Baggywrinkles: A Lubber's Guide to Life at Sea by Lucy Bellwood (Elea Press) $19.99 – Lucy is INTO sailing. And not tiny boats. We're talking full rig ships. And she can draw like nobody's business. What started out as mini-comics by an artist selling them at CAKE is now compiled into a delightful book. Informative and hilarious about all things sailing: what's the deal with sparrow tattoos? What's the deal with "walking the plank"? How did she get into this? Don't miss? -LM
Toward a Hot Jew, Essays by Miriam Libicki (Fantagraphics) $25.00 – An investigation in what it means globally and culturally to be Jewish, dating from her time in the Israeli military to her tenure as an art professor. A powerful witness to history in the tradition of Martjane Satrapi and Joe Sacco.
Peanuts: A Tribute to Charles M. Schulz, edited by $19.99 – Features never-before seen art styles from Jeffrey Brown, Raina Telgemeier and more!
*ESSAYS, POLITICS & REVOLUTION*
Tomboy Survival Guide by Ivan Coyote (Arsenal Pulp Press) $17.95
Trump Unveiled: Exposing the Bigoted Billionaire by John K. Wilson (OR Books) $16.95
*FICTION*
Chronocar by Steve Bellinger $12.95
steampunky stuff from Airship Stories by David B. Riley:
Airship Stories $8.95
Bonded Agent $11.95
Story Emporium vol 2 Purveyors of Steampunk and Weird Western Adventure $7.00
*OUTER LIMITS, MAYHEM & HALLOWEENY SHIT*
Bitten by Witch Fever: Wallpaper & Arsenic in the Nineteenth-century Home by Lucinda Hawksley $45.00 – In Germany, in 1814, Wilhelm Sattler created an extremely toxic arsenic and verdigris compound pigment, Schweinfurt green which became an instant favorite amongst designers and manufacturers the world over. This arsenic-laced pigment made its way into intricately patterned, brightly colored wallpapers and from there, as they became increasingly in vogue, into the Victorian home. As its use became widespread, commercial arsenic mines increased production to meet the near-insatiable demand. It was beautifuyl. And deadly. Spliced between the sections of text are stunning facsimiles of the wallpapers themselves, courtesy of the British National Archive.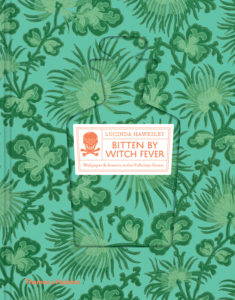 The Occult, Witchcraft and Magic: An Illustrated History by Christopher Dell $39.95
Time Travel: A History by James Gleic $26.95 – A mind-bending exploration of time travel: its subversive origins, its evolution in literature and science, and its influence on our understanding of time itself. From H. G. Wells to Doctor Who to Borges to Woody Allen an investigation of the inevitable looping paradoxes and examines the porous boundary between pulp fiction and modern physics.
The Penguin Book of the Undead: Fifteen Hundred Years of Supernatural Encounters by Scott G. Bruce $17.00 – Spanning from the Hebrew scriptures to the Roman Empire, the Scandinavian sagas to medieval Europe, the Protestant Reformation to the Renaissance, this beguiling array of accounts charts our relationship with spirits and apparitions, wraiths and demons over fifteen hundred years, showing the evolution in our thinking about the ability of dead souls to return to the realm of the living—and to warn us about what awaits us in the afterlife.
In the Shadow of Edgar Allan Poe: Classic Tales of Terror 1816-1914 ed. by Leslie S. Klinger $15.95 – Stories by: Ambrose Bierce, Joseph Sheridan Le Fanu, Theodor Gautier, Charlotte Perkins Gilman, Arthur Conan Doyle, Lafcadio Hearn, M. R. James, Bram Stoker, and many others. Now in soft cover!
Haunted Castles: The Complete Gothic Stories edited by Ray Russell $16.00 – The heartless monster holding two lovers in limbo and the man who must wear his fatal crimes on his face in the form of an awful smile. — this book compiles the best of horror legend Ray Russell's haunting and macabre stories.
The Electrifying Fall of Rainbow City: Spectacle and Assassination at the 1901 World's Fair by Margaret Creighton $28.95 – The Pan American Exposition in Buffalo, New York, went spectacularly awry: an attempted assassination of President McKinley; the smallest woman in the world and the fair's "mascot," had been kidnapped; there was even an attempt to electrocute an elephant. What a shit show!
Tibetan Shamanism: Ecstasy and Healing by Larry Peters $21.95
*MUSIC BOOKS*
Cured: The Tale of Two Imaginary Boys by Lol Tolhurst $27.50 – Co-founder of The Cure releases his memoir just in time for Halloween.
I Am Brian Wilson: A Memoir by Brian Wilson with Ben Greenman $26.99 – The story of the Beach Boy into a Beach Man.
The Song Machine: Inside the Hit Factory by John Seabrook $16.95 – Journeying the world over, Seabrook visits specialized teams composing songs in digital labs with new "track-and-hook" techniques. Going beyond music to discuss money, business, marketing, and technology, this book explores what the new hits may be doing to our brains and listening habits. Like snack-food engineers, modern songwriters have discovered the musical "bliss point."
Jack White: How He Built an Empire From the Blues by Nick Hasted $29.95
*MAGAZINES*
Hi Fructose #41 New Contemporary Art Magazine $7.95
Gentlewoman #14 Fall Win 16 Zadie Smith $15.99
*LIT JOURNALS, CHAP BOOKS & POETRY*
Bon Petit Bohemienne by Dana Jerman $10
Sweet Midget Pickles by S. Duff $4.00
Fields Magazine #6 Fall Win 16 $14.00
Please Insert Anything by Andrew J. Buttermore $7.00
Somehow We Remain in the Aftermath by Sara Krueger $14.49
Found Poetry #1 by Matthew Lesniak $5.00
*FOR THE KIDDIES*
Rad Women Worldwide; Artists and Athletes, Pirates and Punks, and Other Revolutionaries Who Shaped History by Kate Schatz, illustrated by Miriam Klein $15.99