Home / Store / Zines / Black Velvet #68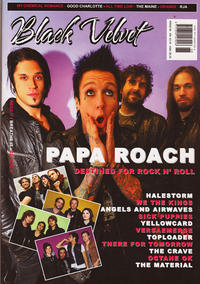 Black Velvet #68
$6.25
Interviews with Papa Roach, Angels & Airwaves, Sick Puppies, Yellowcard, Halestorm, We The Kings, VersaEmerge, There For Tomorrow, Toploader, The Crave & The Material.
Also, concert reviews of My Chemical Romance, Kerrang! Relentless Tour featuring Good Charlotte, All Time Low, Sick Puppies, We The Kings, The Red Jumpsuit Apparatus, Octane Ok, Toploader & Angels & Airwaves. Plus heaps of CD reviews, article on making it as a band, column by Louise Luminous of Luminous Frenzy and 'Me, Me, Me & My Rock CV' by rock photographer Steve Gerrard.
40p, full color, 8.5"x11"