Home / Store / Books / Pinocchio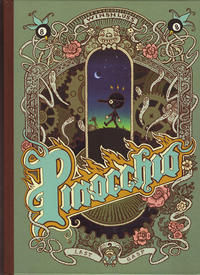 Pinocchio
by Winshluss
Published by Last Gasp
$29.95
"The first English translation of this award-winning graphic novel re-imagines the story of Pinocchio as a noir fairy tale both comic and tragic. In this dark rendition, a greedy Geppetto builds Pinocchio as a metallic weapon of war, while Jiminy Cockroach is a homeless squatter living the good life in Pinocchio's skull.
Exquisite drawings by celebrated cartoonist Winshluss bring to life a rich tale of greedy fools, lust, sadness, redemption, and hope. Teamed with brilliant colorist Cizo, Winshluss creates an epic adventure through a lush world. Meet seven sleazy dwarves, follow Jiminy's struggles as a novelist, watch a blind tramp find God, and see the innocent, yet powerful Pinocchio encircled by those who would use him for their own ends.
Each page is perfectly composed -- not a panel is wasted. The artwork is primarily done in pen & ink and watercolor, but switches to paint for larger splash panels, referencing a range of illustrative styles and history from late 18th century pen and ink, to early French film pioneer Georges Melies, through early Disney, and underground comix. Critically acclaimed, Pinocchio won the Grand Prize at France's Angouleme comics festival in 2009.
Winshluss is the creator of numerous comics and graphic novels that have garnered awards and acclaim across Europe. Winshluss is the pen name of Vincent Parronnaud, born in 1970."
188p, full color, 8.5"x12"