Home / Store / Books / Art of Rebellion III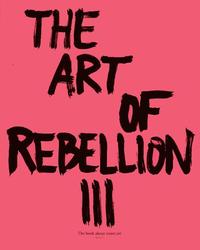 Art of Rebellion III
by C100
Published by Publikat
$29.95
"Back in the year 2003, when Street Art was not quite as popular as today, Publikat and author Christian Hundertmark (C100) released THE ART OF REBELLION, which was one of the first books dealing exclusively with the matter of this phenomenon.
Next to thousands copies sold worldwide, the praise coming from internationally known Street Artists confirmed the high level of authenticity of the book. Three years later the successor THE ART OF REBELLION II – WORLD OF URBAN ART ACTIVISM was published, which was again reflecting the state of the art in this worldwide movement.
While Street Art was defining itself through stencil graffiti and wildly put up posters and stickers at the beginning of the millennium, those techniques are not quite a sensation ten years later – it rapidly and effective emerged from its self-imposed bonds. To put down a definition, about what Street Art actually is, seems not as easy as someone might think. One thing joins all works in similarity: It evolves out of public space – willingly unasked."
216p, color, 8"x10.5"