Home / Store / Books / Comic Arf: Unholy Marriage of Art and Comics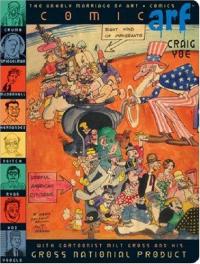 Comic Arf: Unholy Marriage of Art and Comics
by Craig Yoe
Published by Fantagraphics Books
$19.99
Another great Arf book for 2008, and it features one of the greatest comickers of all: Milt Gross! The Gross-ness starts off with a stunning cover painting done in the 1930s but, as they say, ripped from today's headlines. It's all about immigration: Uncle Sam grinds up a sea of immigrants and out come...classic comic strip characters!
Milt Gross drew a 1920s comic that left the last panel blank for aspiring cartoonists. Editor Craig Yoe drafted a who's who of contemporary cartoonists to complete Gross's unfinished masterpieces. Art Spiegelman, Matt Groening, Seymour Chwast, Patrick McDonnell, Mort Walker, R. Crumb, Bil Keane, Johnny Ryan, Jaime Hernandez, Mike Mignola, Bill Griffith, Kaz, Gene Deitch, Joost Swarte and a dozen more cartooning celebrities contribute art especially done for this Arf Happening!
The Arf books are famed for unearthing unknown Old Skool cartoonist geniuses. Comic Arf showcases the brilliant Dudley Fisher who amazingly drew crowded scenes all from a bird's eye view. Arch Dale is another unsung genius getting his due with his Smurfs-meet-Dr. Seuss characters, the Doo-Dads, who populated Canadian comic strips 75 years ago.
Arf also highlights unusual work from recognized masters. Walt Kelly, famed for his Pogo strip, did a surreal nightmarish strip for children presented in all its glory in this latest Arf tome. All this and much more, from 1950s devilish horror comics to cartoonist portraits by Gary Panter and Mitch O'Connell.