Home / Store / Books / Doom Patrol vol 6 Planet Love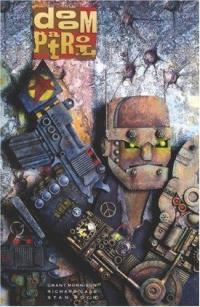 Doom Patrol vol 6 Planet Love
Published by Vertigo
$19.99
An energy-based hermaphrodite? An inter-dimensional traveling street with the consciousness of a gay man? And a women suffering from multiple personalities that all have their own superpower? Yeah, it's classic Grant Morrison. And there couldn't have been a better writer to help revamp the old 1960s comic that inspired Marvel's Uncanny X-Men.
This latest collection contains the bitter end of Morrison's run on Doom Patrol (issues 58 to 63 and Doom Force Special). And yes, every issue is like smoking dope and watching the Jerry Springer Show with guests Ronald Reagan, David Lynch, and RuPaul.
Soft cover, 220 pages, color.