Home / Store / Zines / Punk Planet #79 May Jun 07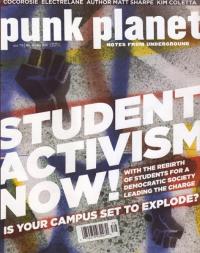 Punk Planet #79 May Jun 07
120p, b&w, color cover, 8.5"x11"
$4.95
Punk Planet #79 looks at the REEMERGENCE OF STUDENTS FOR A DEMOCRATIC SOCIETY and how the Iraq war, globalization, and distrust of the Bush administration has reinvigorated student activism--and how it's reshaping the landscape of political action.

Also in PP79: Interviews with COCOROSIE, ELECTRELANE, AUTHOR MATT SHARPE, DESOTO RECORDS' KIM COLETTA, and more!
Articles include a look at the current state of the NO CHILD LEFT BEHIND act, HIGH-RISK DIRECT ACTION, the DEFENSE OF A WEST BANK TOWN, and more!
PP79 also includes over 300 reviews of the underground's best music, comics, DVDs, and zines. Plus columns, DIY and more!