Home / Store / Books / Mark Twains Autobiography 1910 2010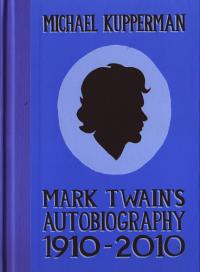 Mark Twains Autobiography 1910 2010
Published by Fantagraphics Books
150p, black and blue ink, hardcover, 6"x8"
$19.99
"Here Mister Kupperman," he said, thrusting a manuscript into my hands. "Publish this, and let the world read of my adventures."
My name is Mark Twain, and I write these words to you in the good old days of August 2010. "What's that," you say? "Didn't you die a hundred years ago, you old coot?"... The truth is I never died, but the same old rumors got exaggerated and then a bunch of other stuff happened, so people forgot I was still alive.