Home / Store / Zines / Punk Planet #42 Mar Apr 01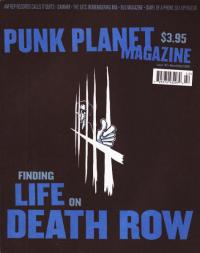 Punk Planet #42 Mar Apr 01
136p, b&w, color cover, perfectbound, 8.5"x11"
$3.95
"Finding Life On Death Row: Too often the story of Sstate killing has been told through statistics- these unique conversations with three people who have been to death row (two are still there) bring readers beyond the numbers and into the cell itself. Interviews in this issue include Amphetamine Reptile Records calls it quits, Samiam, Jets to Brazil's Jeremy Chatelain talks about his solo work, filmmaker Andrew Dickson, members of the powerful Seattle band the Gits look back at the death of their singer Mia, and hip hop culture mag BLU keeps it real. Also interviewed in PP42 is Ali Abunimah, a young palestinian activist who has helped turn the media tide during the latest Arab uprising in Israel. Articles in PP42 include a look at the growing anti-psychiatry movement - are drug companies convincing us we're sick in order to turn a profit. The revealing Diary of a Phone Sex Worker lets readers peer into the world on the other side of the reciever. And Pedal Power chronicles one woman's travels into the radical pro-bike movement."
PLEASE NOTE: Because Punk Planets are so thick - and so cheap- if you order a bunch of them we may have to adjust your postage rate. About 3 can fit in a USPS Priority Flat Rate envelope -max- which is our lowest shipping rate. A Large Size Flat Rate Box can hold 14-18 issues. If you are interested in picking up a lot of Punk Planets expect us to get back to you after you order with the shipping adjustments. We will always ship them USPS Priority at the cheapest rate possible.