Home / Store / Zines / Punk Planet #46 Nov Dec 01 Art and Design Issue 2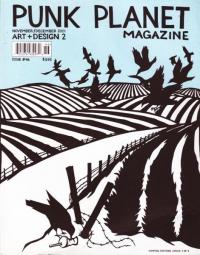 Punk Planet #46 Nov Dec 01 Art and Design Issue 2
168p, b&w, color covers, perfectbound, 8.5"x11"
$3.95
Picking up where the 1998 Art and Design issue left off. Sadie Shaw, Elliot Earles, Jocylin Superstar, Little Miss Attitude, Pond Gallery, Gee Vaucher of CRASS, Chicago's Radical Street Artists, Department of Space and Land Reclaimation, DIY comics, the amazing murals in Chicago's Pilsen neighborhood, Projet Mobilivre, plus 4 features to align with the 4 collectable alternate covers: Jay Ryan, Jaime Hernandez, Nikki McClure and Sheppard Fairey. You can specify which cover(s) you'd prefer, will try to oblige you.
PLEASE NOTE: Because Punk Planets are so thick - and so cheap- if you order a bunch of them we may have to adjust your postage rate. About 3 can fit in a USPS Priority Flat Rate envelope -max- which is our lowest shipping rate. A Large Size Flat Rate Box can hold 14-18 issues. If you are interested in picking up a lot of Punk Planets expect us to get back to you after you order with the shipping adjustments. We will always ship them USPS Priority at the cheapest rate possible.