Home / Store / Zines / Punk Planet #47 Feb 02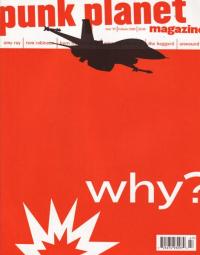 Punk Planet #47 Feb 02
144p, b&w, color cover, perfectbound 8.5"x11"
$3.95
"PP47 takes stock of the Bush Administration's War Against Terrorism. Is it effective? Is it moral? Is it legal? We pose the questions that the mainstream media isn't asking to experts - the answers are eye-opening to say the least." Also Tom Robinson, Unwound, Amy Ray, The Haggard, Thursday, XBXRX, Mint Records and Burn the Olympics activism.
PLEASE NOTE: Because Punk Planets are so thick - and so cheap- if you order a bunch of them we may have to adjust your postage rate. About 3 can fit in a USPS Priority Flat Rate envelope -max- which is our lowest shipping rate. A Large Size Flat Rate Box can hold 14-18 issues. If you are interested in picking up a lot of Punk Planets expect us to get back to you after you order with the shipping adjustments. We will always ship them USPS Priority at the cheapest rate possible.