Home / Store / Zines / Punk Planet #51 Sep Oct 02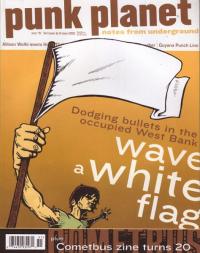 Punk Planet #51 Sep Oct 02
160p, b&w, color cover, perfectbound, 8.5"x11"
$4.95
This isue centers around Jeff Guntzel's account of travelling to the West Bank. Also, Allison Wolfe and Hazel Dickens, Cometbus at 20, Brett Gurewitz on drug addiction and Bad Religion, Sarah Dougher, Andrew Martini, Guyana Punch Line, Ed Varga, privatization in Philly schools, struggles of Chicago's day laborers.
PLEASE NOTE: Because Punk Planets are so thick - and so cheap- if you order a bunch of them we may have to adjust your postage rate. About 3 can fit in a USPS Priority Flat Rate envelope -max- which is our lowest shipping rate. A Large Size Flat Rate Box can hold 14-18 issues. If you are interested in picking up a lot of Punk Planets expect us to get back to you after you order with the shipping adjustments. We will always ship them USPS Priority at the cheapest rate possible.