Home / Store / Books / Harder She Comes Butch Femme Erotica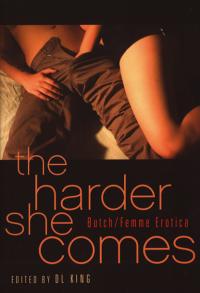 Harder She Comes Butch Femme Erotica
by DL King
Published by Cleis Press
208p, b&w, softcover, 5.5"x8"
$14.95
"Some butches worship at the altar of their femmes, and many adorable girls long for the embrace of their suave, sexy daddies. In The Harder She Comes, we meet femmes who salivate at the sight of packed jeans and bois who dream of touching the corseted waist of a beautiful, confident woman. Editor D.L. King has curated a singular set of well-written stories filled with seductive sirens, strapping farmhands, femmes who demand perfect obedience and motorcycle-riding tattoo artists that will keep you coming back for more.
With contributed stories by Evan Mora, Andrea Dale, Elaine Miller, Stella Sandberg, Sinclair Sexsmith, Charlotte Dare, Rachel Kramer Bussel, Kathleen Bradean, River Light, Teresa Noelle Roberts, Beth Wylde, Aimee Herman, Crystal Barela, Shanna Germain, Miel Rose, Valerie Alexander, Anna Watson, and CS Clark."