Home / Store / Comics / Nobrow #7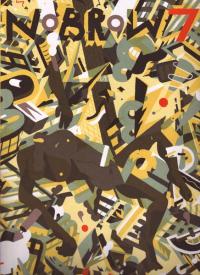 Nobrow #7
Published by NoBrow Press
128p, color, softcover, 9"x12"
$24.00
"
"Is this our 'Brave New World'? Have we yet to enter into it? Or are we on the brink of discovering a world entirely separate from ours: alien, parallel, internal? Inspired by the eponymous dystopian novel written by Aldous Huxley in 1931, Nobrow 7 asks 15 internationally renowned cartoonists, each contributing 4 page visual narratives, and 30 star illustrators to interpret the theme 'Brave New World'.
45 Creative visionaries take on the theme to produce cutting edge comics and illustration in this fantastic large format anthology that has taken the illustration and comics world by storm. With contributions from a group of artists that reads like the guest-list of an illustration/comics super-festival: Joost Swarte (Is That All There Is?, Fantagraphics), Tom Gauld (Goliath, D&Q), Jillian Tamaki (Indoor Voice, Drawn & Quarterly), Luke Pearson (Hilda and the Midnight Giant, Nobrow), Anders Nilsen (Big Questions, D&Q), Joseph Lambert (Winner of Ignatz award categories for 'Outstanding Anthology or Collection' and 'Outstanding Artist' awards for I Will Bite You), Ethan Rilly, Eda Akaltun, Andrew Rae, Rob Bailey, Henry McCauseland, Domitille Collardey, Michael DeForge, and many, many more, Nobrow 7 will exceed your expectations beyond measure."