Home / Store / Books / Sin A Rama Sleaze Sex Paperbacks of the Sixties HC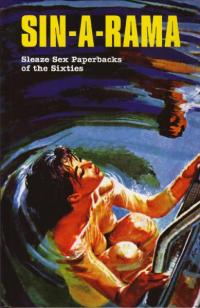 Sin A Rama Sleaze Sex Paperbacks of the Sixties HC
Published by Feral House
288p, full color, hardcover, 6.75"x10.25"
$24.95
"Sin-A-Rama celebrates the forgotten world of erotic paperbacks from the 1960s, when sex acts were described with code words, writers used pseudonyms, and publishers hid behind mail drop addresses.
Sleaze paperbacks sold by the million throughout the decade. Their unorthodox content and inroads into the marketplace provoked new laws, FBI investigations, high-pitched court battles, and prison sentences for the crime of obscenity. Earl Kemp, the notorious Greenleaf Books editor, provides an insider's perspective, profiling famous and little-known co-workers. In "My Life as a Pornographer," science fiction legend Robert Silverberg divulges how he and other famous authors learned their craft and earned their keep pounding out softcore sin."