Home / Store / Books / Building Stories Deluxe Edition Supplemental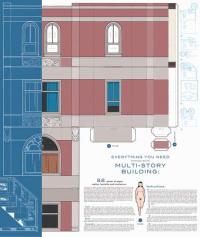 Building Stories Deluxe Edition Supplemental
by Chris Ware
Published by Drawn and Quarterly
13 pages, 16"x19" double-sided cut-and-fold model, signed and numbered edition of 1000
$79.95
"Presented as an absolutely unnecessary addendum to the already-unmanageable Building Stories graphic novel (Pantheon Books: October, 2012) this outrageously expensive signed limited edition print will find few interested parties or adherents to its demanding, labor-intensive brand of rainy day leisure, though it offers to the discriminating and unsocialized reader the promise of a complete 11" x 16" x 18" reference model of the multi-unit apartment building imagined therein, with the top floor represented by full furnishings, discarded clothing, one-sided conversations and even false memories. Sure to one day be a collector's item when flammable tinder is at a premium, be prepared to start your post-apocalyptic campfire now with this 13 sheet collection of dry technical drawings, paper thin walls and cramped psychological spaces."
**Limit 2 per order/customer
**Shipping for this item varies, we will contact you about shipping charges after your order is received. Domestic shipping begins at $10. International shipping rates start at $50.
---
More by Chris Ware