Home / Store / Zines / Lady Churchills Rosebud Wristlet #28 Jan 13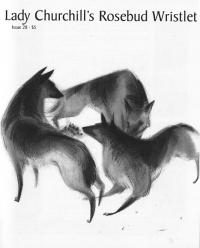 Lady Churchills Rosebud Wristlet #28 Jan 13
Published by Small Beer Press
60p, b&w, 7"x8.5"
$5.00
"Lady Churchill's Rosebud Wristlet (a self-titled Occasional Outburst) returns either incredibly late for 2012 or incredibly early for 2014.
The latest issue of LCRW features magic, killing curses, broken lands and broken lands, a wandering octopus, a robot on the run, invisibility, neighbors, and The Book of Judgment.
What is not to love? Our cooking columnist Nicole Kimberling returns with advice on "Feeding Strays" and although we only managed one poem, it's a good one."