Home / Store / Books / Black Lace Drag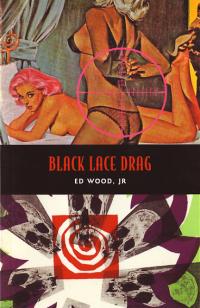 Black Lace Drag
Published by Creation Oneiros
160p, b&w, softcover, 5.5"x8.5"
$14.95
"A transvestite assassin with a fur-fetish, on the run from both police and the mob, buys a run-down travelling
carnival and goes into hiding with a small-town hooker while his twin personalities - Glen and Glenda - continually vie for psychological supremacy. With a supporting cast of hoodlums, predatory queens, rapist farmers, sideshow freaks and corrupt racist cops, Ed Wood's first published novel, Black Lace Drag - also known as Killer In Drag - moves from scenario to sleazy scenario with all the deranged logic of his finest movies.

Ed Wood, Jr. was one of Hollywood's most prolific and bizarrely gifted underground figures in the 1950s and 60s; a self-confessed fur-fetishist, transvestite and alcoholic, he was also a film director (Plan Nine From Outer Space, Glen or Glenda, Necromania etc), scriptwriter (Shotgun Wedding, Orgy Of The Dead etc) and novelist (Devil Girls, Sideshow Siren, The Perverts, etc)."