Home / Store / Books / Recombo DNA Story of DEVO Or How the 60s Became the 80s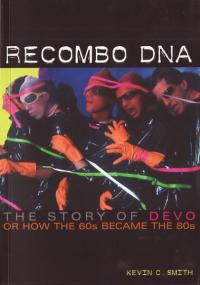 Recombo DNA Story of DEVO Or How the 60s Became the 80s
Published by Jawbone Press
320p, b&w, softcover, 6"x8.5"
$19.95
"Devo may have become synonymous with the crass commercialism of 80s new wave, but many of their guiding principles are firmly rooted in the idealism of the 60s. Taking a willfully non-traditional approach to the surprisingly conservative world of rock music, they sought inspiration instead from Dada and Pop art to comic books and homemade electronics, in the process crossing paths with everything from late 60s psychedelia to punk, krautrock to new wave.
Recombo DNA is the first book to evaluate in the proper context the innovations and accomplishments of this truly groundbreaking band. Opening with the transformative effects of the May 4 1970 shootings at Kent State University - the aftershocks of which are felt throughout the book - author Kevin C. Smith traces the sounds and ideas that Devo absorbed and in turn brought to prominence as unlikely rock stars, dropping in along the way on studio sessions with Brian Eno, post-apocalyptic filmmaking with Neil Young, and a Jamaican odyssey with Richard Branson. For anyone who has ever wondered where "the band who fell to earth" came from, here is the answer."