Home / Store / Comics / Stripburger #61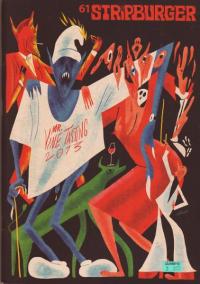 Stripburger #61
96p, b&w and color, 7.5"x10.75"
$8.00
Much like Study Group Magazine, Stripburger combines smart, in-depth writing on comics with sizable comics features that demonstrate a kus-like international scope.
This issue has comics from Kristoffer Kjolberg, Anna Fiske, Lars Fiske, Inga Saetre, Sindre Goksoyr, Martin Ernstein, Alex Potts, Christopher Nielsen, Martin Ramoves, Lars Sjunnesson and Bendik Kaltenborn with writing on Jason, contemporary Norwegian comics and comics structure as it relates to love. Huge!