Home / Store / Books / Burgermat Show Poster and Recipe Book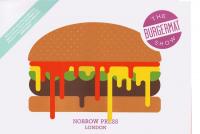 Burgermat Show Poster and Recipe Book
Published by NoBrow Press
98p, color, 11.5"x16"
$24.95
On the trend-spotting front, this is the second oversized sandwich-themed art lookbook we've received in as many months (see "Sammiches" for Exhibit A). On all other fronts, this is a weird pack from the design nuts at NoBrow...a placemat book of 24 illustrated designs each backed with one of four alternating gourmand burger recipes. The art-placemats are removable and commemorating an event that sounds like quite the London burger blow-out- it seems like the concept here is that you use them as the basis of your own massive meat-n-greet. To that effect, this book contains multiples of each design with easy-tear binding...Although I am not quite sure who would by this book as a picnic kit, there's some undeniably tasty-looking stuff in here. -EF

*Because of its oversize format this item may incur additional postage for your order. We will contact you if this is the case.