Home / Store / Books / Heroes In the Night Inside the Real Life Superhero Movement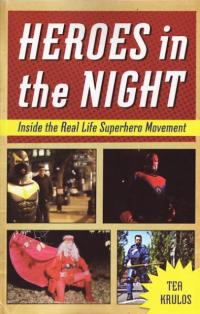 Heroes In the Night Inside the Real Life Superhero Movement
by Tea Krulos
Published by Chicago Review Press
276p, b&w with color photo signature, softcover, 5.5"x8.5"
$16.95
"In Tea Krulos's new book, a creative non-fiction titledHeroes in the Night: Inside the Real Life Superhero Movement (Chicago Review Press), he explores the "Real Life Superhero" movement, a sub-culture of people who adopt their own costumed personas and hit the street to battle injustice. Like in the comic books…but not really.
Through historical research, extensive interviews, and many long hours walking on patrol in Brooklyn, Seattle, San Diego, Minneapolis, and Vancouver, Krulos discovered what being a RLSH is all about. He shares not only their shining, triumphant moments but some of their ill-advised, terrifying disasters as well."