Home / Store / Books / Meaty SC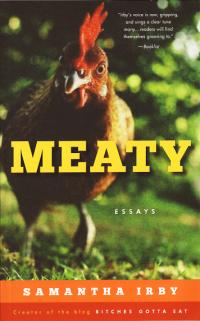 Meaty SC
Published by Curbside Splendor
256p, b&w, 5.5"x8.5"
$15.95
"If you've never heard of Samantha Irby, that's about to change. Creator of the wildly popular blog BITCHES GOTTA EAT, Sam Irby is a force of nature. Already a literary sensation in her native Chicago, Timeout Chicago says, "Her candor in style and subject matter -mostly sex, dating, and the general lousiness of men - has earned Samantha Irby a cult following ... Honesty mixed with self-deprecating humor is what propels readers" and Chicago Magazine raves, "Irby has the rare ability to divulge her personal problems to an expansive, invisible Internet audience and still dazzle a crowded room of literati."
Samantha Irby explodes onto the page in a series of new essays about trying to laugh her way through her ridiculous life of failed relationships, taco feasts, bouts with Crohn's Disease, and more. Written with the same scathing wit and poignant bluntness long-time readers have come to expect from her riotous blog, BITCHES GOTTA EAT, MEATY takes on subjects both highbrow and low - from why she can't be mad at Lena Dunham, to the anguish of growing up with a sick mother to how to get your disgusting meat carcass ready for some new, hot sex, to why she wants to write your mom's Match.com profile."