Home / Store / Books / Cocktail Hour Rum Gin and Vodka 3 Pack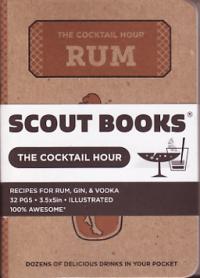 Cocktail Hour Rum Gin and Vodka 3 Pack
Published by Scout Books
3 zines (one for each liquor), 32p ea, b&w, 3.5"x5"
$12.00
"The Cocktail Hour: Rum, Gin, & Vodka is a trio of single-spirit drink recipe guides from some of today's best bartenders and cocktail-savvy creatives. With a mix of fresh twists on classics and unique modern concoctions, each charmingly illustrated, pocket-sized volume showcases over two dozen drink recipes, including Caribbean classics like the Rum Swizzle, cold-weather comforts like the Yule Flip, seasonal delights like the aromatic Coupe de Saison, and bold drinks like the Vesper and the Guinevere.
Throw in recipes for easy-to-make infused liquors and professional-grade tinctures and syrups, and you'll find that The Cocktail Hour: Rum, Gin, & Vodka is a perfect fit for novices and seasoned mixologists alike!"
lllustrated by Tuesday Bassen, Trevor Alixopulos and Anna Hurley