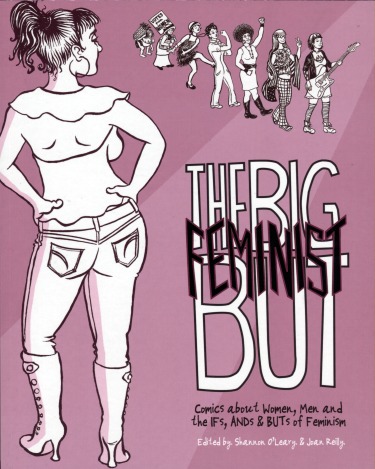 Big Feminist But: Comics about Women Men and the Ifs And and Buts of Feminism by Shannon O'Leary and Joan Rielly $20.00
Zines
Mum Is the World by Zanny Begg $6.00
Sushi Pocket Book by the Sushi Warrior and Hoan Tran $3.00
Beasys Chilleisure a Image Lifestyle Catalog by Brian Echon $15.00
Super Trooper #7 Feb 13 by Robert Stanton $3.00
Indulgence #11 by Eleanor Whitney $4.00
Comics & Comix
Under the Sea by Leslie Perrine $6.00
Hate Baby #3 Spr 13 by Corinne Halbert $8.00
Lately I've Had Trouble Waking Up to My Alarm by Nall $1.00
Urban Nomad #1 by Alisa Harris $5.00
Fear of Flowers by Jason Viola (Manatee Power) $4.00
Tank Girl Solid State #2 by Alan C. Martin et al. $3.99
Peace Sign #1 Nexus $4.00
Copra Compendium $12.00
Invincible Haggard West #101 the Death of Haggard West  by Paul Pope $2.99
Twelve Reasons to Die: Starring Ghostface Killah (Ghost Variant) Ballistic by A. E. Mortimer and D. Robertson $3.50
Boy In Question #1 by Michael DeForge (Space Face Books) $7.00
Graphic Novels & Trade Paperbacks
The Amazing Enlightening and Absolutely True Adventures of Katherine Whaley by Kim Deitch (Fantagraphics) $29.99
Love and Rockets Companion 30 Years and Counting by The Hernandez Bros et al. (Fantagraphics) $29.99
Templar by  Jordan Mechner, LeUyen Pham, Alex Puvilland $39.99
Genius by Steven T. Seagle and Teddy Kristiansen $17.99
More Deluxe Editions of Before Watchmen, various volumes
Adventure Time TPB vol 2 $14.99
Bravest Warriors TPB vol 1 by Pendelton Wars, Joey Comeau et al. $14.99
Saga of the Swamp Thing Book 4 TPB by Alan Moore et al. $19.99
Mayhem, Miscreants, Memoirs, Music & Misc
Exploding the Phone: The Untold Story of the Teenagers and Outlaws who Hacked Ma Bell by Phil Lapsley and Steve Wozniak $26.00
Hallelujah: The Extrodinary Story of Shaun Ryder and Happy Mondays by John Warburton and Shaun Ryder $16.95
Why We Drive: The Past, Present and Future of Automobiles in America by Andy Singer (Microcosm) $13.95
The Death of Cool by Gavin McInnes $15.00 – The soft cover version of what was called in the previous hardcover version How To Piss In Public. By one of the foundors of Vice.
Politics & Revolution
Squatting In Europe: Radical Spaces Urban Struggles by The Squatting Europe Kollective (Minor Compositions) $24.00
Occupy Everything: Reflections On Why Its Kicking Off Everywhere by Alessio Lunghi and Seth Wheeler (Minor Compositions) $18.00
Fiction
Timegazer by Moses Solomon $5.99
Mags
Cabinet #49 Death $12.00
Hi Fructose #28 $6.95
Juxtapoz #151 Aug 13 $5.99
SteamPunk Magazine #9 Lifestyle Mad Science Theory and Fiction $8.00
Bizarre #203 Aug 13 $10.50
High Times Sep 13 $5.99
Fuel #13 Magazine Timeless $16.99
Man of the World #4 $20.00
Dazed and Confused vol 3 #23 Jul 13 $9.99
Tape Op #96 Jul Aug 13 $4.95
Wire Jul 13 #353 $11.25
Poetry, Lit Mags, Lit Journals, Chap Books
Collected 2013 Integumentary $7.00
Versal #11 $14.95
Petbooks Books 1 and 2 Collected Stories by Kevin Luna $2.50 each
Click here to see what new stuff is available in our web store!