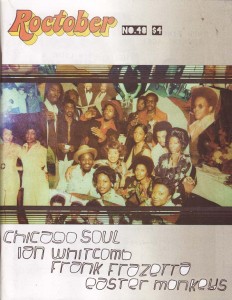 1. Roctober #48 $4.00 – The world's best music magazine from the folks behind the world's best cable-access show. A million zillion pages, b&w with tons of pictures and loads of comics.
2. Make Your Place: Affordable, Sustainable Nesting Skills by R. Briggs (Microcosm) $7.00
3. Gaylord Phoenix #5 by Edie Fake $4.00 – New issue from our very own Edie. Don't miss his event here at Quimby's to celebrate the release of his Gaylord Phoenix book published by Secret Acres here at Quimby's on Dec 9th!
4. X'ed Out by Charles Burns (Pantheon) $19.95 – Ever wonder what would happen if Charles Burns took over drawing TinTin? Today's your lucky day, punk. You like eggs, don't you?
5. Acme Novelty Library #20 Lint by Chris Ware (D&Q) $23.95 – The most recent addition of Chris Ware's running issues. Interpret issues how you want.
6. Picture This by Lynda Barry (D&Q) $29.95 – Although I doubt this book needs any introduction, I'll go ahead and quack a little about Lynda Barry's exciting follow up to What It Is. These books are sort of a portable pair of life-coaches on the means and meaning in personal artistic process. Where Scott McCloud tries to crack open all the formal and technical elements of comics-making step-by-step in his "Understanding Comics" series, Lynda Barry is using rather sub-conscious processes to burrow deep into the intuitive realms of how and why content is created. It's a pretty amorphous thing to get a handle on and Barry's collaged approach reflects the subtleties of the fog while still assembling a book on "how to draw". Picture This allows her to dig into the core of creating without being didactic or judgemental, writing the secret missing chapter to every "How to Draw Comics" book ever published. -EF
7. Wowee Zonk #3 (Koyama Press) $8.00 – Yo! It's so good: Michael DeForge, Jan Avendano, Andrei Georgescu, Zach Worton, Ginette Lapalme, Selena Wong, Chris Simonen, Chris Kuzma, Dan Rocca, Patrick Kyle…And everyone really pulled out their A-game here, not a single bad apple in this whole round-up. Insanely beautiful cover art too – what planet are those colors from? -EF
8. Possum and the Pepper Spray by Pete Hodapp $4.00
9. Grime Time #3 $8.00
10. Believer #76 Nov Dec 10 Art Issue $10.00