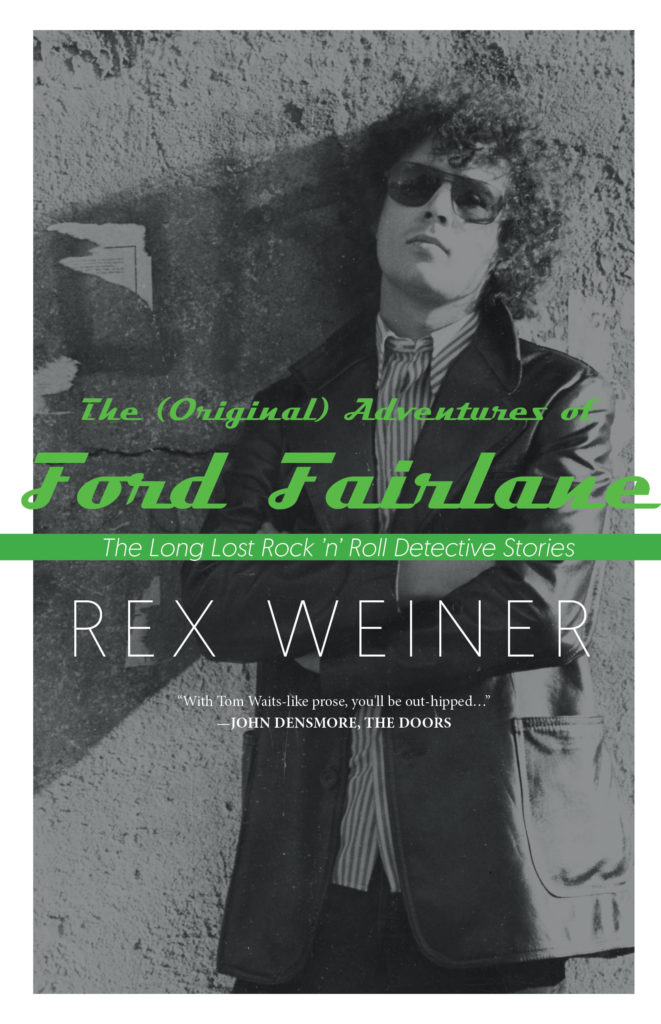 Rex Weiner's collection of punk rock noir stories titled The Adventures of Ford Fairlane originally appeared in New York Rocker magazine and L.A. Weekly in 1979 and 1980, but are collected in this book for the first time. The stories were also made into a truly terrible, but cult classic movie in 1990 with Andrew Dice Clay playing the titular Ford Fairlane.
Before the movie about a rock n' roll detective there were Rex Weiner's noirish stories, capturing the punk rock 1970s in New York and Los Angeles in all their gritty glory. First published in the New York Rocker and the LA Weekly in 1979- 1980, the stories became the basis for the 20th Century Fox motion picture starring Andrew Dice Clay . From CBGBs, the Mudd Club and Tier 3 in NYC to the Starwood, Zero Zero and Cuckoo's Nest in LA, Ford Fairlane takes you back to a sexy, violent and explosively creative time and place that live on in rock n' roll legend, brought authethically to life in these hardboiled stories.
Rex Weiner's screenwriting credits include The Adventures of Ford Fairlane, based on his original stories, directed by Renny Harlin and starring Andrew Dice Clay for 20th Century Fox. As one of the first writers brought on board to launch the TV series Miami Vice, Weiner wrote the now classic 9th episode, "Glades." As a journalist, Weiner's articles have appeared in Vanity Fair, The Paris Review, The New Yorker, LA Weekly, L'Officiel Hommes, and Rolling Stone Italia. "Lost & Found," his column about Hollywood entertainment history, appeared weekly in Variety where was a staff reporter. He is one of the founding editors of High Times Magazine and former editor of Swank ("The Magazine For Men"). He is also the co-author of The Woodstock Census (Viking), one of the key texts analyzing the impact of the Sixties Generation on American society. A native New Yorker, Mr. Weiner lives in Los Angeles and in Baja California Sur, Mexico, where he is co-owner of Casa Dracula, a 160-year old hacienda in the historic pueblo magico of Todos Santos.
Sat, August 25th, 7pm, Free Event
The (Original) Adventures of Ford Fairlane: The Long Lost Rock N' Roll Detective Stories
by Rex Weiner
9781945572807 | US $16.95 | 5 X 8 IN. | 176 PP. VIREO/RARE BIRD
More info: