Happy birthday to us!
Zines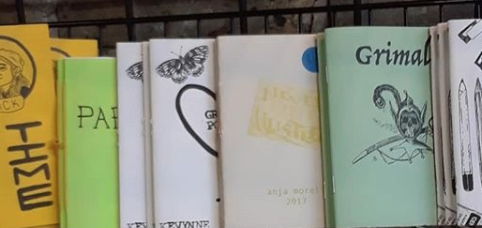 Mura Press #2 Fall 18 Children of the Riot $10
zines from Erika Schnatz, $5 each: Tiny Vampire and Friends Inktober 2017, Cute KO 2017, Cute KO 2018
The Smudge vol 2 #9 $5
End by Lily Someson and Zoe Athena $8
Dootsie by Dan Kelly $2
Flotation Device #15 $2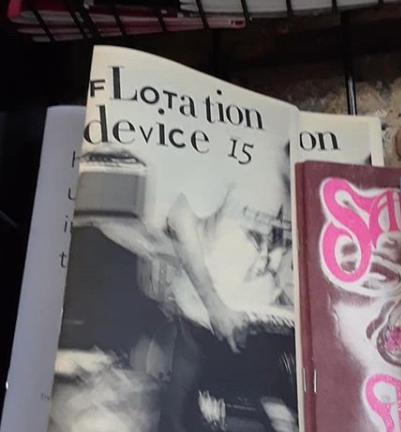 Comics & Minis
Futile Comics #7 by Mike Centeno $8
Lily Reeves comics: Live Hot Bugs $5, Spring Diary $4
Slightly Plural: Short Comics about Pregnancy, Birth and Parenthood by Marnie Galloway $10
Thiccc Offerings #2 $3
Rando by Nichole MK $5
Graphic Novels
Jim Osborne: The Black Prince of the Underground by Jim Osborne (Fantagraphics Underground) $25
Now 4: The New Comics Anthology (Fantagraphics) $9.99 Tri-yearly showcase of new work from contemporary cartoonists worldwide.
Kafkaesque: Fourteen Stories by Peter Kuper $19.95
My Brother's Husband 2 by Gengoroh Tagame $25.95
Passing for Human: A Graphic Memoir by Liana Finck $28
Marilyn's Monsters by Tommy Redolfi (Humanoids Publishing) $29.95
Home After Dark by David Small $27.95
Roly Poly: Phanta's Story by Daniel Semanas (Fantagraphics) $19.99
Woman World by Aminder Dhaliwal (D&Q) $24.95
Politics & Revolution
Resisting Illegitimate Authority: A Thinking Person's Guide to Being an Anti-Authoritarian-Strategies, Tools, and Models by Bruce E. Levine (AK Press) $18
You Can't Be Neutral on a Moving Train: A Personal History by Howard Zinn $17
Proletarian Days: A Hippolyte Havel Reader by Hippolyte Havel (AK Press) $24
Road Map for Revolutionaries: Resistance, Activism, and Advocacy for All by Elisa Camahort Page & Carolyn Gerin $16.99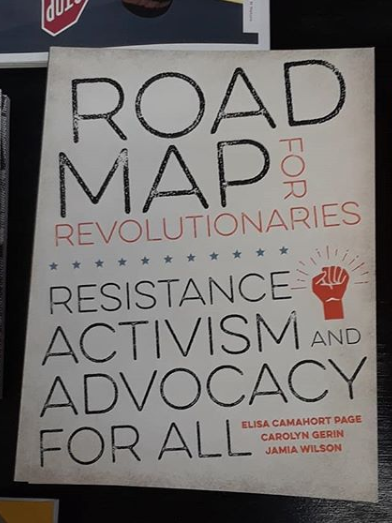 Art Books
Suggestivism: Resonance by Nathan Spoor (Gingko Press/Spoke Art Gallery) $45
Handmade Art by Sandu Publications: Explorations in Contemporary Craft (Gingko Press) $39.95
Cat Paws by PIE International $12.95
Terrariums: Bring Nature into Your Home by Mathilde Lelievre (Gingko Press) $22
Mayhem & Outer Limits
Robot Sex: Social and Ethical Implications, editor John Danaher $19.95
Black Flags, Blue Waters: The Epic History of America's Most Notorious Pirates by Eric Jay Dolin $29.95
The Surrender of Silence: A Memoir of Ironfoot Jack, King of the Bohemians by Ironfoot Jack, edited by Colin Stanley (Strange Attractor Press) $21.95
Fiction
We Sold Our Souls by Grady Hendrix $24.99
LIVEBLOG by Megan Boyle (Tyrant Books) $21.95
My Pet Serial Killer by Michael J. Seidlinger (Fangoria Books) $15
Film & Music Books
The Coen Brothers: This Book Really Ties the Films Together by Adam Nayman $40
David Bowie: The Oral History by Dylan Jones $18
The Last Poets by Christine Otten $17.99
Magazines
Park and Life #8 $10
Frankie #84 $16.99
Little White Lies #76 $12.99
Poetry
When Rap Spoke Straight to God by Erica Dawson (Tin House ) $15.95
For the Kiddies
Collaboration: Ways We Work Together by Tomas Moniz & friends (AK Press) $14.95
Peaceful Fights for Equal Rights by Rob Sanders $17.99 – A primer for peaceful protest, resistance and activism.