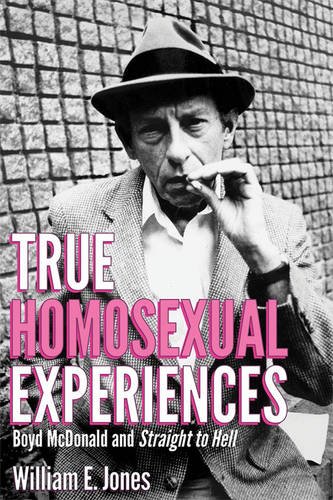 True Homosexual Experiences: Boyd McDonald and Straight to Hell by William E. Jones (We Heard You Like Books) $25.00 – Boyd McDonald (1925-1993) had the makings of a successful career in the 1950s–an education at Harvard, jobs at Time/Life and IBM–but things didn't turn out as planned. After 20 years of resentful conformity and worsening alcoholism, McDonald dried out, pawned all of his suits, and went on welfare. It was then that his life truly began. From a tiny room in a New York SRO hotel, McDonald published Straight to Hell, a series of chapbooks collecting readers' "true homosexual experiences." Following the example of Alfred Kinsey, McDonald obsessively pursued the truth about sex between men just as gay liberation began to tame America's sexual outlaws for the sake of legal recognition. Admired by such figures as Gore Vidal and William S. Burroughs, Straight to Hell combined a vigorous contempt for authority with a keen literary style, and was the precursor of queer 'zines decades later. William E. Jones conducted in-depth interviews with many people from McDonald's life, including friends, colleagues, and most unexpectedly, family members who revealed that he was a loving uncle who doted on his nieces and great-nieces. A complex portrait drawn from a wealth of previously unpublished material, True Homosexual Experiences: Boyd McDonald and Straight to Hell is the first biography devoted to a key figure of the American underground.
*ZINES*
Templates for Limitless Fields of Grass #2 Tall Fields Edition by Gary Kachadourian $3.00
Travel Often #1 by Layne Buckland $7.00
Jester Jass Visual Wolcott $3.00
Living Southerners #3 May 16 by J Wu $2.00
Winners and Losers #2 by Nayef Nebhan $4.00
Punk London: In The City, 1975-78 by Paul Gorman $9.99 – A London-based guide with rare photos, charting the squats, clubs, shops and rehearsal spaces.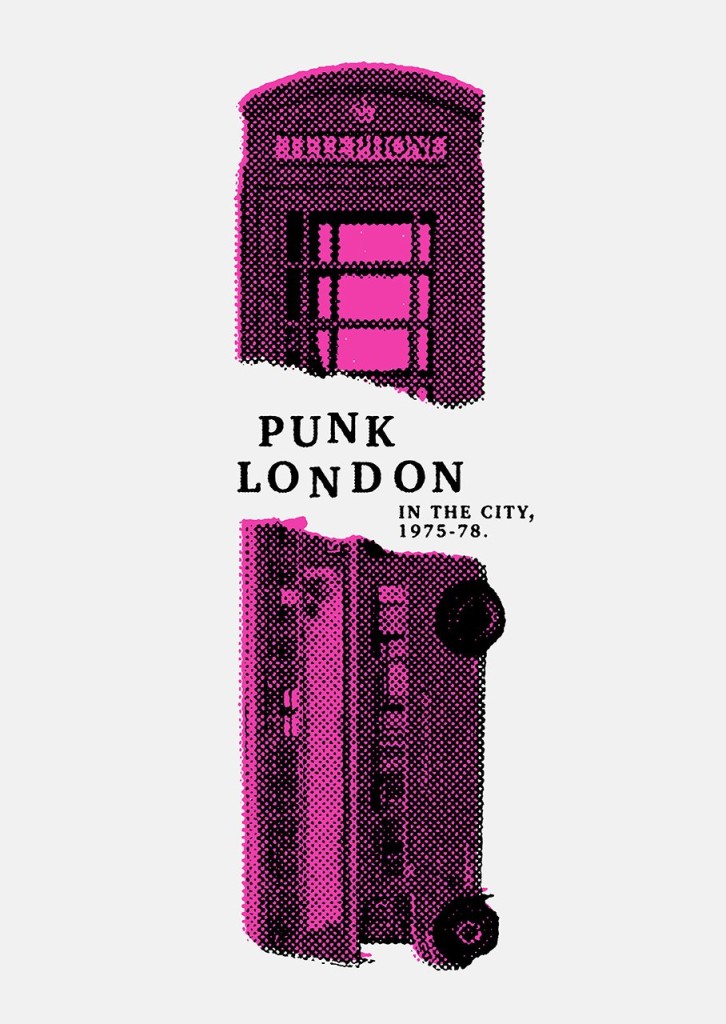 Cathartic zine by Aim Ren $1.50
Flyer Zine #1 by Julia Arredondo $5.00
Truck Month #1 by Pat Jarrett $15.00
Sole Soul So What by Ben Puffer $5.00
This Goddamn Body: A Zine About Trauma, Mental Illness and Bodies by Maira $3.00
How I Spent My Summer Vacation Wishing I Was Dead $4.00
Reflections issues #1 & #2 by Claudia E Berger $3.00 each
Genderqueer: A Gender Fanzine by Maus $3.00
Mental Health Is Ugly: A Collaborative Zine Edited by Queer Anxiety Babiez Distro July 2015 $5.00
But You Dont Look Sick: A Zine about Invisible Illnesses and Disabilities in the Workplace $5.00
What We Loved Was Not Enough by Ed Blair $5.00
Dave Roche zines, $.25 each. We pride ourselves on offering you these manuals of important information!:
Good Parrot Names / Bad Parrot Names
Good Dog Names / Bad Dog Names
Good Cat Names / Bad Cat Names
Cool Hiss #1 $2.00
Crunch: A Taco Bell Fanzine #1 by Brian Baynes and friends $5.00 – Long live nacho cheese. This is really a real thing. For real.
Mystic Punks #1 An RPG Experience by Anthony Meloro $5.00
Quartet First Edition by Nicholaus Jamieson $20.00
*COMICS & MINIS*
Each Day Everyday Before Ill Have Been Blind by Ben Porta $3.33
Weak Chin #2 by Steve Schaberg $3.00
How to Write Five Songs in Six Years $1.00
Soak Test by Alyssa Bonanno $5.0
Switchblade Lizzy by Elizabeth Lent $10.00
Wayward Riff by Robert Rusch $5.00
Become by Daimon Hampton $3.00
Island #7 by Brandom Graham and friends $7.99
Distant City by Lilly Richard (Uncivilized Books) $5.00
Bear and the Moon by Claudia Berger $3.00
Smoo by Simon Moreton, various issues $4.00 each
Trophies, Some Posters and Flyers by Michael Deforge & Patrick Kyle $5.00
Art Scrap Craft by Julie Doucet $5.00
My Hot Date by Noah Van Sciver $7.00
Lamentations of Ridiculous Creatures by Shawn Chang $3.00 – Pretty cute! Pretty funny! Very silly!
*GRAPHIC NOVELS*
Highbone Theater by Joe Daly $34.99
Cigarette Girl by Masahiko Matsumoto (Top Shelf) $24.99 – Eleven quiet, evocative urban dramas originally published in 1974 from one of the leading lights of the Japanese alternative-comics movement known as "gekiga."
Koma by Pierre Wazem & friends (Humanoids Publishing) $19.95
Boys Club by Matt Furie (Fantagraphics) $19.99 – No need to search around for those individual issues anymore! Collected here!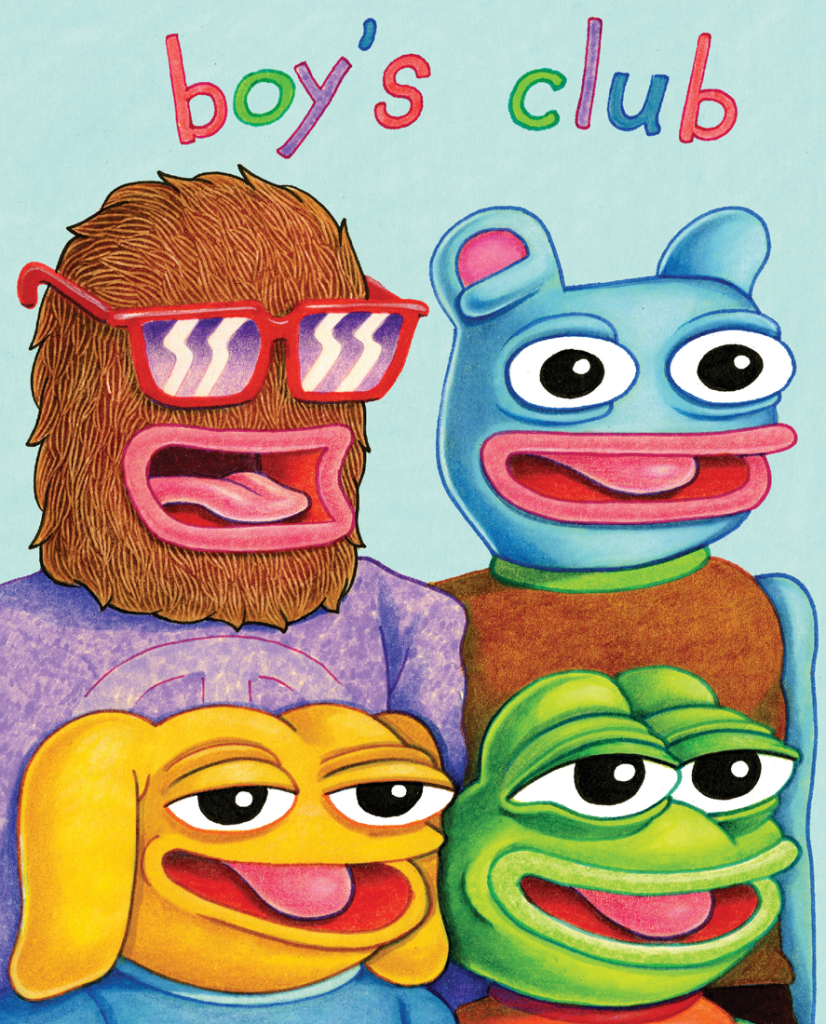 20×20: Twenty Years of Conundrum Press by Andy Brown $20.00
The Massive Library Edition volume 1 by Brian Wood (Dark Horse) $39.99 – This library edition reprints the comic book series The Massive #1-#15 from Dark Horse Comics, as well as material originally published in Dark Horse Presents #8-#10.
Twilight Children by Gilbert Hernandez and Darwyn Cooke $14.99
Everything Is Teeth by Evie Wyld, illustrated by Joe Sumner (Pantheon) $24.95 – The story of a girl obsessed with sharks.
Lydian by Sam Alden $12.00
Outer Limits: The Steve Ditko Archives vol 6 (Fantagraphics) $39.99
*FICTION*
Fat Artist and Other Stories by Benjamin Hale $26.00 – A dominatrix whose congressman client drops dead, a heartbroken performance artist who attempts to eat himself to death as a work of art, an addict driving a truck of live squid — all sorts of weirdness.
The Mirror Thief by Martin Seay (Melville House) $27.95 – A mirror, 3 Venices in history and dangerous scheming. Don't miss!
The Beautiful Bureaucrat: A Novel by Helen Phillips $16.00 – In a windowless building in a remote part of town, a newly employed young woman, Josephine, inputs an endless string of numbers into something known only as The Database. As the days inch by and the files stack up, Josephine feels increasingly anxious in her surroundings?the office's scarred pinkish walls take on a living quality, the drone of keyboards echoes eerily down the long halls.
*MAYHEM & OUTER LIMITS*
UFOs and Anti-Gravity by Leonard G. Cramp (Adventures Unlimited) $19.95 – Who says you need gravity to get anywhere? Not this guy.
Matthias Buchinger: The Greatest German Living by Ricky Jay (Siglio Press) $39.95 – He danced, he drew, he did tricks with pistols, swords and bowling. He had 14 kids. And he was 23″ tall.
The Cthulhu Wars: The United States' Battles Against the Mythos by Kenneth Hite & Kennon Bauman, illustrated by Darren Tan (Osprey Publishing) $18.95
*MUSIC, TV & FILM BOOKS*
The Sun & The Moon & The Rolling Stones by Rich Cohen $30.00 – Vanity Fair contributor tours with the Rolling Stones in the 90s.
Jim Henson: The Biography by Brian Jay Jones $20.00 – Now in soft cover.
Fascination: The Celluloid Dreams Of Jean Rollin by David Hinds (Headpress) $19.95
Another Little Piece of My Heart: My Life of Rock and Revolution in the '60s by Richard Goldstein $17.00 – Memoir from Village Voice reporter who toured with Janice Joplin, watched the Doors record, got stoned with the Beach Boys, befriended Abbie Hoffman and the Black Panthers and more.
Dreams to Remember: Otis Redding, Stax Records, and the Transformation of Southern Soul by Mark Ribowsky $17.95 – Now in soft cover.
*ESSAYS*
Keep It Fake: Inventing an Authentic Life by Eric G Wilson $17.00
Communal Nude: Collected Essays by Robert Gluck (Semiotext(e) / Active Agents) $18.95
The Dark Net: Inside the Digital Underworld by Jamie Bartlett (Melville House) $16.95
String Theory: David Foster Wallace on Tennis: A Library of America Special Publication by David Foster Wallace $19.95
Dave Hill Doesn't Live Here Anymore by Dave Hill $27.00 – These days, comedian and musician Dave Hill has just the right amount of spare time to write books at home, preferably in his underwear, but things weren't always perfect. For a while he lived at home with his widowed father in New York where they bonded over the things in life that really matter: scorching-hot rock jams, the gluten allergy craze, eighteen-wheelers, Italian food (pizza and spaghetti), and whatever else could possibly be left after that.
*POLITICS & REVOLUTION BOOKS*
Who Rules the World by Noam Chomsky $28.00
*MAGAZINES*
Juxtapoz #185 Jun 16 $6.99
Offscreen #14 People Behind Bits and Pixels $20.00
Apartamento #17 $19.95
Skin Art #165 $7.99
Fader #103 Apr May 16 $6.99
*POETRY, CHAP BOOKS & LIT JOURNALS*
A Series of Pained Facial Expressions Made While Shredding Air Guitar: Poems, Observations, Lists, Letters, Notes, Bullshit Aphorisms, and General Tales of Ordinary Crabbiness by Brian Alan Ellis (House of Vlad Productions) $10.00 – Are you a Shia LaBeouf completist? Do you scream into pillows? Do you eat cream cheese sandwiches for dinner and then cry yourself to sleep every night? Have you somehow Jacque Cousteau'd a new depth to the ocean that is your self-hate? Here is the book for you.
Field Guide to Kissing You by Catalina Bode $15.50
Sheriff Nottinghams Holiday Herald #6 vol 2 #2 May Day $10.00
Letters from Delirium by SM Welch $4.00
I Am So Goddamn Lonely Poems by Paul E Schmidt $4.00