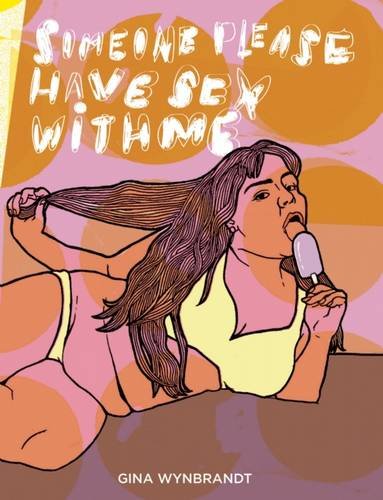 Someone Please Have Sex With Me by Gina Wynbrandt (2d Cloud) $17.95 – Yay for Chicago-based comics artists! Failed erotic photoshoots! Late-onset teen popstar obsessions! Fairy Kardashians and Pokémon-inspired future-sex! Lisa-Hanawalt-&-John-Porcellino-approved!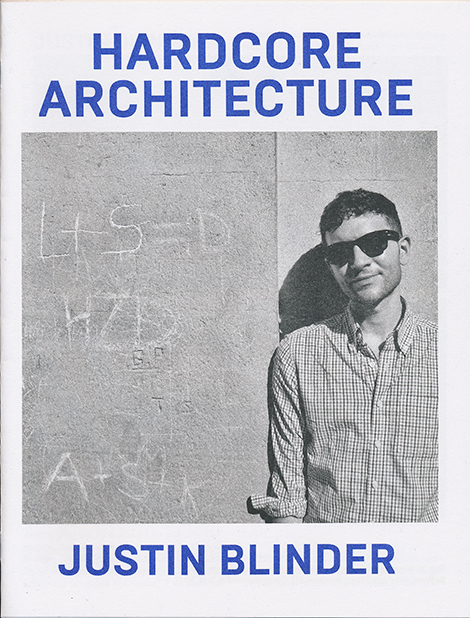 Hardcore Architecture: Justin Blinder by (Public Collectors) $5.00 – Fourth in this series of Hardcore Architecture interview publications that explore the relationship between the architecture of living spaces and the history of underground American hardcore bands in the 1980s. This booklet features a lengthy conversation with artist, designer and programmer Justin Blinder conducted by Michelle Millar Fisher. The focus of the conversation is Blinder's project "Vacated" which interrogates the hyper gentrification of New York City.
*ZINES*
zines from Nyxia Grey:
Everything Is Fine vol 1 #3 $2.00
NYC Zine Fest Here I Come Again #2 $4.00
Zodiac Book $5.00
Necessary Sass #1 I Fell in Love on the Internet, #2 Funeral Home, #3 5 Cats, #4 Dont Look in the Toaster & #5 Colma Bowl by Cher Strauberry $.50 each
Relax it's Just Grapes by Magenta Phillips $10.00
Light Is a Better God #1-#3 by Alex Norelli $10.00-$12.00
Love Me More Now That I Am Golden $10.00
Save the Giraffes by Tara Wogomon $7.00
Put a Egg On It #12 $8.00
*COMICS & MINIS*
You Don't Get There From Here #38 by Carrie McNinch $3.00
Canosas Welcome by Jim Pluk (Perfectly Acceptable Press) $10.00
comics by JJ McLuckie:
Passionate Journey $2.00
Bus Stop $10.00
Jake the Marshmallow Earthquake by Joaquin Barrett $2.25
*GRAPHIC NOVELS*
The Stranger: The Graphic Novel by Albert Camus and Jacques Ferrandez $24.99
Wallace Wood Presents Shattuck by Wallace Wood (Fantagraphics) $24.99 – Original art edition!
Disquiet by Noah Van Sciver (Fantagraphics) $19.99 – The best of Noah's short comics work in full-color, including: "The Death Of Elijah Lovejoy," the story of the midwestern abolitionist in the 1830s;"The Lizard Who Laughed," a painfully dysfunctional reunion; and "Punks V. Lizards," an anarchic and darkly comic piece of absurdity that blends Quadrophenia with Jurassic Park.
Bird Boy vol 1 The Sword of Mali Mani by Anne Szabla (Dark Horse) $9.99
*ART & DESIGN BOOKS*
The Art World Demystified: How Artists Define and Achieve Their Goals by Brainard Carey (Allworth Press) $19.99
*FICTION*
My Best Friend's Exorcism: A Novel by Grady Hendrix $19.99 – Friendship and demonic possession in 1988, a cross between Beaches and The Exorcist.
*OUTER LIMITS & MAYHEM BOOKS*
Morgue: A Life In Death by Dr. Vincent Di Maio $26.99
*POLITICS, REVOLUTION & CURRENT EVENTS BOOKS*
When We Fight, We Win: Twenty-First-Century Social Movements and the Activists That Are Transforming Our World by Greg Jobin-Leeds & AgitArte (New Press) $17.99
Exoneree Diaries: The Fight for Innocence, Independence, and Identity by Alison Flowers (Haymarket Books) $17.95
Who Cooked Adam Smith's Dinner?: A Story of Women and Economics by Katrine Marcal $26.95
The Defender: How the Legendary Black Newspaper Changed America by Ethan Michaeli $32.00
*ESSAYS*
Broadcast Hysteria: Orson Welles's War of the Worlds and the Art of Fake News by A. Brad Schwartz $17.00
*FOOD BOOKS*
Playing With Food: An Activity Book by Louise Lockhart (Cicada) $18.99
*MAGAZINES*
Lucky Peach #19 Sum 16 $12.00 – The Pho Issue! Iz realz pho sho!
Bust #99 Jun Jul 16 $5.99
Best Of Skunk #14 $7.99
Wire #387 May 16 $9.99
Fantastic Man #23 Spr Sum 16 $14.99
She Shreds #10 Esperanza Spalding $8.00
Make vol 51 Jun Jul 16 $9.99
Bad Day #20 $13.00
Tape Op #113 May Jun 16 $4.95
Video Watchdog #183 $11.95
Under the Radar #57 May 16 $5.99
Girls and Corpses vol 10 Spr 16 $8.95
Tattoo Life #100 $9.99
Shindig #55 10cc $12.99
Neural #53 $7.99
*CHAP BOOKS, LIT JOURNALS & POETRY*
Dutiful Days New York Nites $3.00
Ninth Letter vol 13 #1 Spr Sum 16 $14.95
Kids are Cold #1 Poems and Art by E-Paine $4.00
Admit It Japan You Love When A Foreigner Struggles by Bruno Pieroni $15.00
These Worlds Between Us by Beth Marshall Jack $16.99
Paper Darts vol 5 $12.00
*KIDS BOOKS*
Tunnel Ball by Mark Neeley $10.00
Two Long Ears by Jacob A Boehne (Schiffer) $9.99
Alpha, Bravo, Charlie: The Complete Book of Nautical Codes by Sara Gillingham (Phaidon) $19.95
Club Life In Moomin Valley by Tove Jansson (D&Q) $9.95 – Moomin in da club.