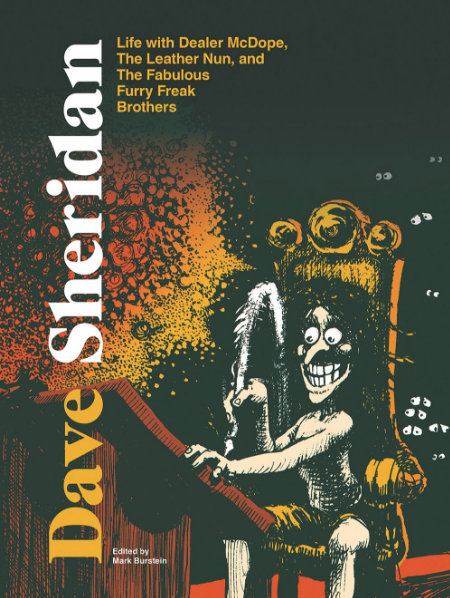 Dave Sheridan: Life With Dealer McDope, The Leather Nun, And The Fabulous Furry Freak Brothers by Dave Sheridan and Mark Burstein (Fantagraphics Underground) $35 – Dave Sheridan collects the best of the legendary underground cartoonist's tripped-out comic strip hilarity. It includes Sheridan's solo comics, many reprinted for the very first time, and his collaborations with Fred Schrier and Gilbert Shelton (who writes the foreword), along with his record covers, beer labels, and advertisements for more…cough, cough…organic products. The book includes a biography and reminiscences from fellow artists, friends, and family members.
Zines
Mineshaft #35 $9 – Mineshaft #35 is now available! This is the Jay Lynch Memorial issue with new work by Jay and front cover art and design by Robert Crumb. And more!!!
Work in Progress by Dan Gleason $3 – He might be a work in progress but by God, what a piece of work. – M.C.
Junk Drawer #10 Guide to Time Travel $5
KerBloom #131 Mar Apr 18 by Artnoose $2
Loud and Queer: Queer Voices of Now, various issues $10 each
zines by Kara Comegys: Plump Up For Hibernation #3 A Vegan Bears Baking Guide $5, Clumsy #11 $3 & more!
Smudge vol 2 #4 by Clay Hickson $5
Portion of the Lincoln Highway Through Illinois by Jessica Brewer Prugh $8
Rain Drops and Broken Hearts by Leanna Perry $15
Comics & Minis
Wakaikami by Kyle Arends $3
Quarter Vomit Version 2.0 by Otto Splotch $10
Patchwork by Steve Schaberg $8
Graphic Novels
Land Of The Sons by Gipi (Fantagraphics) $29.99 – Two brothers try to discover the secret of their father's diary.
Blackbird Days by Manuele Fior (Fantagraphics) $22.99 – Fior showcases his versatility and mastery of the form in this collection of short literary comics fiction.
Die Laughing by Andre Franquin (Fantagraphics) $19.99 – A collection of visual gags and gag-inducing visuals by a trailblazer of Belgian comics.
Godhead vol 1 by Ho Che Anderson (fantagraphics) $24.99 – Chaos ensues after a powerful corporation creates a device to communicate with God. Is this humanity's salvation or the equivalent of a Doomsday machine?
Art & Design Books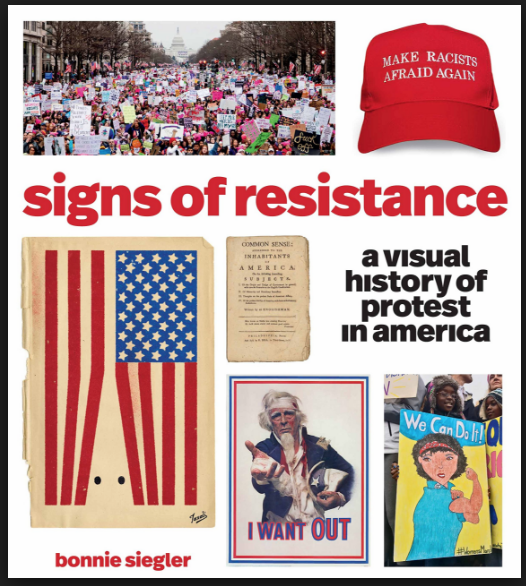 Signs of Resistance: A Visual History of Protest in America by Bonnie Siegler $17.95 – 240 images from British rule and women's suffrage to the civil rights movement and the Vietnam War; from women's equality and Black Lives Matter to the actions of our forty-fifth president and the Women's March and more!
The Feminist Revolution: The Struggle for Women's Liberation by Bonnie J. Morris and D-M Withers $34.95 – Collection of essays, oral histories, and illustrations depicting the feminist revolution.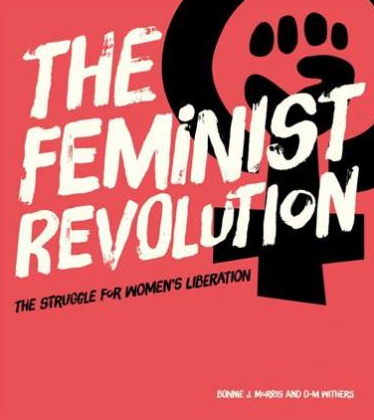 Love Sucks: The Truth About Romance From the World's Greatest Cynics, Written by Daria Summers, Illustrated by Emma Munger $12.95
Politics & Revolution
A Girl's Guide to Joining the Resistance: A Feminist Handbook on Fighting for Good by Emma Gray $16.99 – Executive Women's Editor at HuffPost interweaves personal experience and journalism to offer how to info on choosing good media sources, instructions on getting involved, how to creat female centric work spaces, how to stay involved without exhaustion, numbers to call, orgs to contact, scripts for reaching out as well as interviews with activists.
Gore Capitalism by Sayak Valencia (Semiotext(e) / Intervention Series) $16.95 – An analysis of contemporary violence as the new commodity of today's hyper-consumerist stage of capitalism.
Music & Film Books
More 33 1/3 books! $14.95 each:
Fugazi's In on the Kill Taker by Joe Gross – Features new interviews with all four members of Fugazi and members of their creative community.
Jawbreaker's 24 Hour Revenge Therapy by Ronen Givony – Touches on issues such as toxic authenticity, the question of "selling out," and asks whether we today are enriched or impoverished by that debate becoming obsolete.
Lou Reed's Transformer by Ezra Furman – Explores Reed's and Transformer's unstable identities, and the secrets the songs challenge us to uncover.
That Movie Book: Awesome, Weird and Wonderful Flicks for Every Weekend of Your Year by Marc Fennell $19.99 – From the very funny film critic on triple j, chat show The Circle & reporter on ABC1's Hungry Beast! 260 movies to fill every weekend of the year, each with a theme – a genre, filmmaker, actor or trend. Disney's most racist characters! The many disturbing faces of Santa! You get the idea.
Runnin' with the Devil: A Backstage Pass to the Wild Times, Loud Rock, and the Down and Dirty Truth Behind the Making of Van Halen by Noel Monk (with Joe Layden) $19.99 – By Noel Monk, the manager who shepherded Van Halen from obscurity to rock stardom.
Fiction
The Rise and Fall of D.O.D.O.: A Novel by Neal Stephenson and Nicole Galland $17.99 – Magic stopped working altogether in 1851, at the time of the Great Exhibition at London's Crystal Palace—the world's fair celebrating the rise of industrial technology and commerce. Something about the modern world "jams" the "frequencies" used by magic, and it's up to Tristan to find out why.
Census by Jesse Ball $25.99
Guardian Angels and Other Monsters by Daniel H. Wilson $16 – Stories that explore complex emotional and intellectual landscapes at the intersection of artificial intelligence and human life.
Books by by Brian Alan Ellis (House of Vlad) $10-$12: Something To Do With Self Hate, Drunken Heap of Trouble Every Week: The First Three Books
Outer Limits
I'll Be Gone in the Dark: One Woman's Obsessive Search for the Golden State Killer by Michelle McNamara $27.99 – An account of the unsolved Golden State Killer case, written by the late author of the TrueCrimeDiary.com website and featuring an afterword by her husband, comedian Patton Oswalt, traces the rapes and murders of dozens of victims and the author's determined efforts to help identify the killer and bring him to justice.
Acid West: Essays by Joshua Wheeler $17 – A trip through the muck of American myths that have settled in the desert of our country's underbelly.
Magazines
Another Man #26 $18.50
Tom Tom Magazine #33 $10
Mojo #294 $11.25
Chap Books & Poetry
Your Glass Head Against the Brick Parade of Now What's a Beautiful Nice Poem by Sam Pink (House of Vlad) $10 – You might have thought you didn't like poetry but you'll like Sam Pink: thoughtful musings, wistful superheroes, different types of eye contact and the grace of the beat-down. At turns elegant and hilarious. -LM
Survival Guide 2018 by R. Browning $25