Home / Store / Books / Near West Side Stories Struggles For Community in Chicagos Maxwell Street Neighb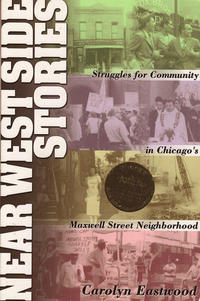 Near West Side Stories Struggles For Community in Chicagos Maxwell Street Neighb
Published by Lake Claremont Press
$17.95
"Struggles For Community in Chicagos Maxwell Street Neighborhood"
"You could be St. George and you couldn't slay that dragon," said Florence Scala. She was referring to her epic fight to preserve the Italian Taylor Street community from Mayor Richard J. Daley's plan to redevelop it for the University of Illinois. Yet, Scala and other ordinary citizens in Chicago's port-of-entry Near West Side neighborhood persisted in their extraordinary battles against some of the biggest power players in a city of clout.
Near West Side Stories: Struggles for Community in Chicago's Maxwell Street Neighborhood is an ongoing story of unequal power in Chicago. Four representatives of immigrant and migrant groups that have had a distinct territorial presence in the area—one Jewish, one Italian, one African-American, and one Mexican—reminisce fondly on life in the old neighborhood and tell of their struggles to save it and the 120-year-old Maxwell Street Market that was at its core."
360p, b&w, 6"x9"