Home / Store / Zines / Fisting and Roses #1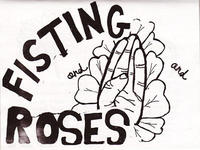 Fisting and Roses #1
$2.00
Let's use the famous words of Poison to illustrate this zine: "every rose has it's thorn".
Fisting and Roses is about expanding the idea of romance to include a sexual spectum where pleasure is wrought from intense, physical, painful and extreme experiences (as well as cuddling and silk sheets). Multiplicities-amen. -EF
20p, b&w, 5.5"x4.25"