Home / Store / Zines / Annalemma #7 Endurance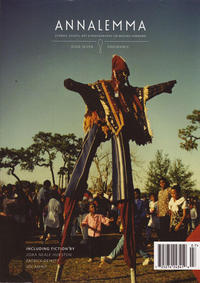 Annalemma #7 Endurance
$15.00
"The purpose of this issue was to answer the question, "What keeps people moving when all signs are telling them to stop?"
Featuring short fiction by Joe Meno, Patrick DeWitt, Roxane Gay, Amber Sparks, Matthew Simmons, Sasha Fletcher, Brian Allen Carr, Paul Kwiatkowski and more.
Featuring photography and illustrations by David Potes, Cali deWitt, Kristian Hammerstad, Margaret Durow, Patrick Savile, Jake Blanchard and Sam Brewster.
The cover is excerpted from the photo essay ZORA! by Ted Hollins. Ted's photography captures 21 years of the Zora Neale Hurston Festival of the Arts and Humanities, held annually in Eatonville, Florida. The festival celebrates the memory and influence Zora, and the endurance of the City of Eatonville, the first black municipality in the US.
We felt a portrait of Zora, Eatonville and the concept of endurance would be incomplete unless her writing was showcased. Thanks to Harper Perennial and the Zora Neale Hurston Trust, the short story "Sweat" by Zora Neale Hurston has been reprinted in its entirety.
As a gesture of respect and gratitude to the memory and work of Zora Neale Hurston, a portion of the proceeds from the sale of Annalemma Issue Seven: Endurance will be donated to The Hurston Museum, an organization dedicated to showcasing works of artists of African descent."
6.5"x9.25"