Home / Store / Zines / Caboose #6: The Health and Recreation Issue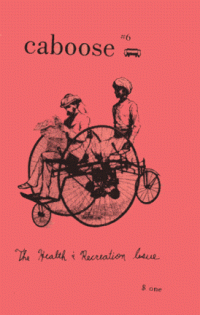 Caboose #6: The Health and Recreation Issue
by Liz Mason
$1.00
Caboose #6: The Heath & Recreation Issue
Full disclosure: Liz is my boss at Quimby's, and can make me clean the gross-ass toilet at a moments notice.
Now that's out of the way, I can write that in all honesty, every issue of Caboose is a good time. Each and every issue has a different focus. Previous issues have found Liz waxing philosophical on burning issues such "Modular Karaoke", "Self Improvement/The Bad Lyrics Project" as well as my personal favorite, the "Suckass CDs I Have Owned" issue .
The "Health & Recreation" issue finds Liz in a more serious and introspective place. She discusses her harrowing descent into undiagnosed illness and treatment and pseudo-treatment with a honesty and straightforwardness rarely found in zines today, both self-published and "the majors". Old school Caboose fans can breathe easy though, though, because her keen sense of the absurd and sharp humor shines throughout this issue like all the others.
As with every issue of Caboose, this installment gets Quimby's HIGHLY RECOMMENDED stamp of approval. Get it!!
---
More by Liz Mason