Home / Store / Books / Drawings On Hands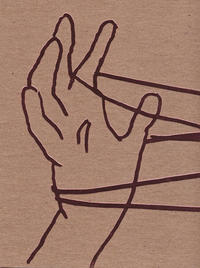 Drawings On Hands
by Serge Onnen
132 unbound pages, b&w with foil stamped portfolio cover, 9.5"x7"
$15.00
Part Craphound, part art book, part eyecandy, maybe the best way to describe Serge Onnen's attractive Drawings On Hands portfolio is by quoting the incredibly stoned blurb on the back of the book:
"A left Hand draws a self portrait on a sheet of paper. The hand leaves the room. Another hand picks up the drawing and looks at it. "Why can't I do this?" This is an extremely jealous hand, and he crushes the drawing. Then he walks toward a hand mirror, opens himself and pushes very hard against his cold reflection. He takes a few steps back and stares at the print made by his heat until it slowly vanishes."
whoa.