Home / Store / Books / Salad Daze the Hot Knives Vegetarian Cookbook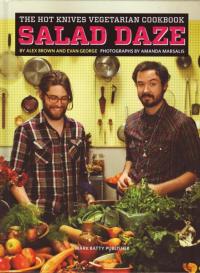 Salad Daze the Hot Knives Vegetarian Cookbook
by Alex Brown and Evan George
Published by Mark E. Batty Publisher
130p, full color, hardcover, 7"x10"
$25.00
"Alex Brown and Evan George, a.k.a. the Hot Knives, have taken the lust for vegetables, craft beer, and experimental music that fuels their popular 5-year-old blog and channeled it into The Hot Knives Vegetarian Cookbook: Salad Daze.
Bountiful with Dionysian flair, and paired with beer selections and soundtracks, these recipes rely on hearty tubers, root vegetables, and bushels of other ingredients readily available during the winter months. Imagine a rice bowl that echoes Primal Scream's decadent psychedelia; mushrooms with the musty umami of early Rolling Stones; squash ice cream as sweet and tangy as Os Mutantes. Salad Daze celebrates virtuous veggies in the name of health, sustainability, and, most importantly, over-the-top flavors and good times.
At the core of Hot Knives cooking is the farmers market, where they bike each weekend to "fondle some kale, sniff chives, and snag apples, pears, and a fennel bulb that flies its freak-flag of bush green fronds." Salad Daze is designed to get you through the cold months, with winter vegetables that "must be cuddled, dressed up, told that they're pretty," and unfolded using fire, steam, vinegar, and fat.
There's no humdrum Caesar salad here. Illustrated with sumptuous photography by globetrotter Amanda Marsalis alongside the detailed recipes, Salad Daze guides readers through the finer points of real artisanal cheeses, shows how to roast and bake with beer, and explains how to make pantry potions like Sriracha, Woostershire, kimchi, and even a cough syrup cocktail, all vegan without the typical processed ingredients or corn syrup."