Home / Store / Books / Stories in Reserve vol 1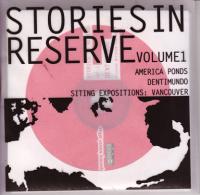 Stories in Reserve vol 1
Published by Temporary Travel Office
36 full-color pages (5.5 in/14 cm square) with 3 audio compact discs. First Edition of 500.
$15.00
Stories in Reserve is a collection of inspired subversions of "tourism" collecting three diverse artists' projects that politicize/personalize place through the specificity of guided audio tours.
A guide book featuring 3 artist-produced audio tours in North America presented with full-color maps and images.
The Tours :
Dentimundo : Ricardo Miranda Zúñiga
This walking tour of Tijuana finds one example of transnational commerce in a rather unexpected place