Home / Store / Books / Inside Peewees Playhouse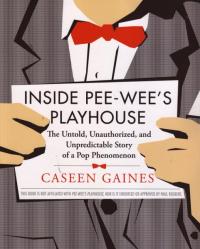 Inside Peewees Playhouse
Published by ECW Press
224p, full color, 8"x10"
$19.95
"Between 1986 and 1991, nearly ten million people a week watched Pee-wee's Playhouse, the critically acclaimed and widely successful children's program broadcast on CBS. Now, on the 25th anniversary of the show, the complete behind-the-scenes story is being told for the first time by those who experienced it.
Complete with an episode guide, biographical information about the cast and key members of the show's creative team, never-before-told anecdotes, and previously unpublished photos, Inside Pee-wee's Playhouse takes the first in-depth look behind the program TV Guide recently cited as one of the top ten cult classics of all time."