Home / Store / Books / Lost and Found Comics 1969 2003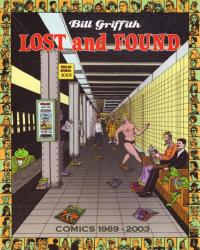 Lost and Found Comics 1969 2003
Published by Fantagraphics Books
392p, b&w and color, softcover, 8"x10"
$35.00
"Bill Griffith is best known as the creator of the Zippy daily comic strip, currently running in over 300 newspapers nationwide, but Zippy was conceived as an underground comix character before he became embraced in the main- stream, and Griffith himself was a seminal figure in the underground comix movement, during which he was a cartoonist, an editor, and an entrepreneur.
Bill Griffith: Lost & Found collects hundreds of Griffith's early underground comics, most of them long out of print and unavailable. Much of the work will be unfamiliar and a real revelation to those readers who only know Griffith from his long-running Zippy strip.
Beginning in 1969, Griffith contributed stories to a long list of legendary undergrounds. Lost and Found is not only a collection of these underground comix