Home / Store / Books / Simple Machine Like the Lever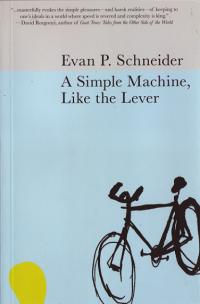 Simple Machine Like the Lever
Published by Propeller Books
184p, b&w, softcover, 5.5"x8"
$14.00
"Nicholas Allander, 31--carless and careerless--is trying to get his life on track while holding his head high. He's trying to pay off his debt, impress his girlfriend, keep his job, cast off his introversion, and accept the world's imperfections without abandoning his heart. Unsure of what moves to make, though, he considers growing his beard, taking up alcoholism, abandoning scrounging, and owning an automobile--before too much slips by. All the while he clings to his bicycle, a simple machine whose purpose and workings he grasps.
Nick's struggle to position his aesthetic within the world is the story of a perfectionist who is far from perfect, who is considerate but clumsy, and who may be invisible. Like Nick, A Simple Machine, Like the Lever is short, toned, observant, generous, purposeful, and brimming with bicycle wisdom."